Want to optimize your job listings to attract high-quality candidates?
With countless companies competing for top talent ensuring that your job posting stands out is paramount. Employers and recruiters can no longer rely on traditional methods alone; strategic, innovative, and creative ways to advertise job openings are now essential tactics.
In this article, we'll walk you through how to elevate your recruitment process, including how to advertise a job, offering top tips and tactics that will give you an edge. Whether you're an HR professional or a hiring manager, these insights will help you reach the candidates you're looking for!
Understanding the challenges in job advertising
Attracting the right talent isn't just about having an open position –it's about ensuring that the right people see, connect with, and respond to that opening.
One of the primary reasons companies often fail to rope in their desired candidates is ineffective job advertising. Many companies struggle to stand out, especially the smaller ones without a dedicated HR wing, making recruitment challenging.
The competition in the job advertising arena is fierce. A recent survey shed light on this challenge, revealing that a whopping 77% of employers faced difficulties in attracting candidates –a significant jump from 49% the previous year. This upward trend underscores the growing competition for top talent and the necessity of crafting standout job ads.
Managing the multitude of advertising channels can be quite daunting. Furthermore, effective website job ads need sound SEO knowledge, while social media demands an understanding of changing algorithms and engaging content creation. Simply put, you can't simply post haphazardly or thoughtlessly – you need to have a solid strategy in place.
Exploring effective job advertising strategies
Navigating the job advertising landscape requires a mix of traditional and modern tactics. Let's break it down:
1. Choose the right channels: Picking the right advertising channels when choosing where to advertise a job is crucial. Are your ideal candidates likely to frequent industry-specific job boards and professional networking sites like LinkedIn, or will they be browsing your company website?
It's crucial to cast your net where the fish are. An efficient tool like WP Job Manager can be invaluable for managing and optimizing job listings on your website, ensuring they're both accessible and attractive to potential candidates.
2. Leveraging social media: Platforms like LinkedIn, Twitter, and even Instagram can be gold mines for potential hires. Craft compelling content customized for your specific target audience, and utilize paid advertising to extend your reach even further.
Don't forget to maintain a robust social media presence even outside recruitment drives. You should keep posting relevant and engaging content on your social media platforms, even when you are not actively looking for new hires. This way, you can build your brand awareness, attract potential candidates, and showcase your company culture and values.
3. Technology to the rescue: Tools like WP Job Manager not only make job advertising more straightforward but can streamline the entire recruitment process. Such tools, in tandem with Applicant Tracking Systems (ATS), can automate and enhance the effectiveness of your advertising efforts.
4. Employee referral programs: Your current employees might just be your best recruiters. They understand your company culture and often have networks filled with potential hires. Rewarding them for referring top talent can be a win-win.
5. Networking: Attending industry events, conferences, and seminars can offer more than just learning opportunities. They're platforms to forge relationships, leading to invaluable referrals or even direct hires.
6. Recruitment agencies: These can be your allies in finding the right candidates swiftly. They come with a vast network and expertise. However, it's essential to weigh the benefits against the costs. While they can speed up the hiring process, they do come with a price tag.
How to create an effective job advertisement: Step-by-step
1. Draft a compelling job title: Begin with a clear, concise job title that encapsulates the essence of the role. This title should be free from jargon, incorporating keywords potential candidates might search for. Remember, first impressions count, and the title is often your only shot to grab attention.
2. Write a clear job description: Dive deeper by outlining the role and responsibilities. Use lucid language and steer clear of industry-specific terms that might confuse potential candidates. The clearer the description, the more likely you'll attract those genuinely interested.
3. Highlight essential qualifications and skills: Be explicit about the skills and qualifications you're seeking. This clarity will not only attract qualified candidates but also dissuade those ill-suited, saving you time in the long run.
4. Incorporate company culture: Your company's ethos, values, and culture can be a significant draw. Infuse these elements into your job ad to attract candidates that align with your organizational vibe and vision.
5. Close with a strong call to action: A job ad should inspire action. Incorporating a prominent "Apply Now" or a similar call-to-action can serve as the gentle push that a potential candidate may require to initiate their engagement.
6. Utilize the right tools: Tools like recruitment plugins for WordPress sites can be game-changers. It can streamline and simplify the process of creating effective job ads. Seek features like frontend forms for job submissions, a user-friendly interface, and integration with Google Job Schema, which bolsters your job ad's visibility in search results.
7. Proofread and refine: Last but certainly not least, proofread the job ad for any grammatical errors or unclear sections. Getting a second set of eyes or feedback can help polish it further, ensuring it communicates precisely what you intend.
A well-crafted job advertisement strikes a balance between clarity, precision, and a hint of the company's character. With these steps, you're well on your way to creating an ad that attracts the talent you seek.
Introducing WP Job Manager: Your ultimate job posting solution
In the digital age, the process of job posting and recruitment requires tools that are versatile, efficient, and user-friendly.
Enter WP Job Manager – a powerful plugin designed for WordPress sites that transforms them into fully functional job boards.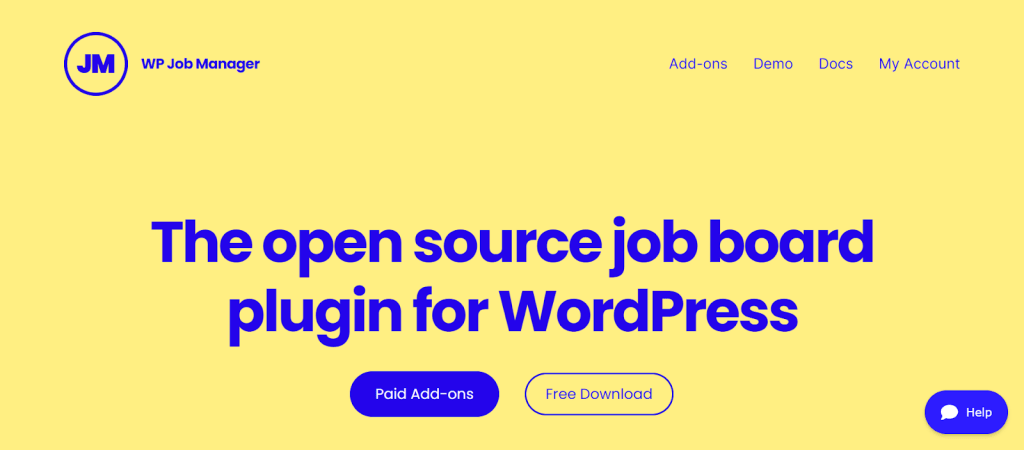 User-friendly interface: Even if you aren't a tech whiz, WP Job Manager is a breeze to use. Its intuitive design ensures that anyone can manage job listings without getting bogged down by technical jargon.
Customizable to the core: Need a bespoke job board solution? WP Job Manager's advanced customization options cater to specific job board requirements, ensuring your site aligns with your brand and needs.
Search filter: A game-changer for both employers and job seekers, the Search Filter feature enhances user experience, ensuring vacancies are filled faster by connecting employers with the most suitable candidates.
Frontend forms to the rescue: WP Job Manager's frontend forms streamline job advertising, making it seamless for businesses, both big and small, to attract, manage, and interact with applicants.
SEO-optimized listings: With the Google Job Schema, your job listings aren't just visible – they shine. This feature bolsters your job ad's visibility in search results, ensuring you're seen by the right candidates.
Efficient job management: The Job Dashboard centralizes your job management efforts, offering a more streamlined workflow and real-time tracking.
Stay updated: With customizable RSS feeds, promoting relevant job listings to your target audience has never been easier.
Simplified applications: The "Apply" options make the job application process straightforward. Whether it's a direct email link or a specific URL, applicants have clarity, leading to an influx of quality applications.
A multi-channel approach: WP Job Manager isn't just about your WordPress site. It integrates seamlessly, featuring job listings in Google for Jobs and third-party job boards like Indeed and LinkedIn, thanks to the JobTarget integration.
Flexible pricing and add-ons: While the core WP Job Manager plugin is free, its array of add-ons – like Job Alerts, Application Deadline, and Job Tags – allows you to refine and elevate your job board, tailoring functionality to your exact requirements.
WP Job Manager isn't just a plugin – it's a comprehensive job posting solution that adapts to your needs, making the recruitment process efficient, effective, and elegant.
How to advertise a job with WP Job Manager
Here's a guide on how to use this robust tool to its full potential:
Installation & setup: Begin by installing the WP Job Manager plugin from the WordPress repository. Once activated, simply follow the setup wizard to get things rolling. This process will guide you through basic configurations and settings.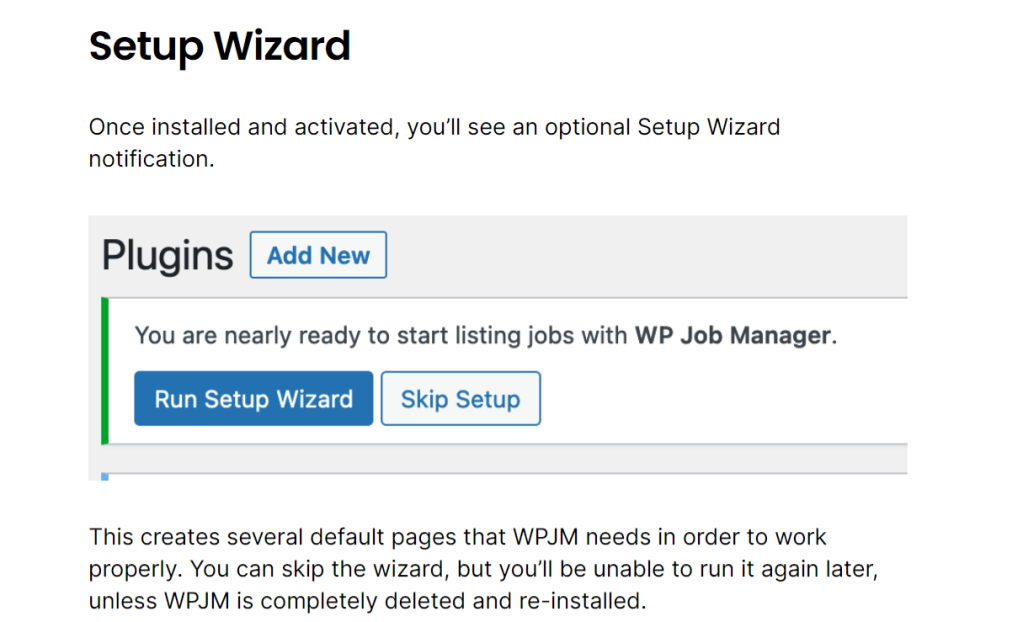 Creating a job listing:
On your WordPress dashboard, spot the Job Listings icon on the sidebar and click on 'Add New'.
A form appears prompting for key details: job title, location, job type (full-time, part-time), and a detailed job description. Don't forget to add your company logo for branding!
Once filled, take a moment to preview the listing. Ensure everything appears as expected. Tweak any details as necessary.
Satisfied? Hit the 'Publish' button. Your job is now live!
Want to add more roles? The process is as easy as repeating these steps.
Managing with the Job Dashboard:
This centralized dashboard offers unmatched ease:
To edit an active listing, simply locate it in the Job Dashboard and make your desired changes.
Expired listing? Relist it in a jiffy or use the Listing Renewals feature to renew jobs before they're set to expire.
For administrators, managing alerts and content is a breeze. Filter alerts by users or manage them through the admin screens for top-notch control.
Optimizing visibility:
The Search Filter feature allows potential candidates to find your listings effortlessly. Tailor it to your requirements.
Boost your job listing's SEO with the Google Job Schema feature. This ensures your jobs are prominent in Google job searches.
Finally, tweak and customize RSS feeds. This ensures that your target audience always gets wind of your most relevant and fresh job listings.
Take your job advertising to the next level with WP Job Manager
The competition for top talent is fierce, making every word of your job description, every platform choice, and every advertising method vital.
This article sheds light on the nuanced intricacies of job advertising, emphasizing that more than just listing a job, it's about crafting a compelling story that resonates with potential candidates. And while the strategy is crucial, the tools you employ can make or break your success.
WP Job Manager is a powerhouse plugin for WordPress sites that seamlessly integrates each step of the job advertising process. From its intuitive interface and developer-oriented customizations to its forward-thinking features (like the Google Job Schema), WPJM offers businesses an unmatched platform to elevate their recruitment strategy.

Whether you're an employer seeking talent or an administrator managing content, WP Job Manager offers unmatched clarity and ease. If you're ready to revolutionize your recruitment process and snag that top-tier talent, it's time to integrate WP Job Manager into your strategy. Take your job advertising to unparalleled heights with WP Job Manager.