Want to attract the best talent for your latest role? You'll need a robust strategy to maximize the visibility of your job listing. Understanding where to advertise your jobs can make a significant difference, enabling you to get your new roles in front of more eyes and increasing the number of qualified applicants.
In this article, we will outline everything you need to know to successfully market your latest job openings to top talent. Whether you're a large corporation or a small startup, having a well-crafted job marketing plan is essential in today's competitive job market. By implementing the right techniques, you can attract highly skilled and motivated individuals who will contribute to your company's success. Additionally, we'll recommend some useful tools to help you along the way, making the process of finding and attracting the best candidates much more efficient and effective.
Step-by-step processes for maximizing the visibility of your job posting
There are several steps you can take to ensure that job listings and advertisements reach the right candidates. From choosing the right job listing plugin to crafting the perfect advert, let's explore some effective ways to maximize visibility and help you choose where to advertise a job.
1. Utilize job boards, job posting websites, and social media channels
Job boards and posting websites
Job boards and job posting sites are designed to provide quick and easy access to listings and postings. Selecting the appropriate job boards and websites for your target industry and job type is extremely important for a successful job marketing strategy. Factors to consider include:
Access to relevant and quality candidates: Different job boards and websites attract distinct candidate pools. By choosing platforms that align with your industry and job type, you increase your chances of reaching candidates with the right skills and qualifications. Niche job boards, such as If You Could, focus on specific industries, ensuring that the candidates you attract are highly targeted and relevant.
Efficiency: Using the right job boards saves you time and effort by presenting your job listings to a concentrated audience.
Enhanced employer branding: Your job board should be an opportunity to highlight your culture, values, benefits, mission statement, and overall brand.
Competitive insight: By utilizing popular job sites like Indeed, Glassdoor, and LinkedIn, you gain valuable insights into your competitors' hiring strategies.
Cost management: While some job boards require payment, others offer free or more affordable options.
Social media
In addition to job boards, leveraging social media channels like LinkedIn, Facebook, and Twitter expands your reach and engagement with both active and passive candidates. In 2021, around 40 million people searched for jobs on LinkedIn every week, which is a clear indication of how powerful such platforms can be.
The main advantages of using social media to advertise jobs include:
Targeted advertising to reach target candidates: Social media platforms offer advanced targeting options based on demographics, interests, and behaviors, allowing you to tailor your job ads to reach the most relevant audience and increase the likelihood of attracting qualified candidates.
Extended reach: There are almost 5 billion active social media users in the world in 2023, so your job listings have the potential to reach a vast global audience, expanding your reach far beyond traditional job boards.
Engagement opportunities: Social media provides an interactive space for candidates to engage with your job postings, ask questions, and express interest. By fostering two-way communication, you create a positive candidate experience and build stronger connections with potential hires.
Referrals, including colleague and job posting referrals: Social media platforms facilitate easy sharing of job postings, allowing your existing employees to refer friends or colleagues who might be a good fit. Additionally, candidates can share job opportunities with their networks, amplifying the reach of your job listings through word-of-mouth referrals.
Using WP Job Manager for creating and managing job boards on WordPress websites
WP Job Manager is a free plugin with various add-ons, designed to let WordPress users create fully-fledged and powerful job boards on their own website. This plugin is a fantastic tool if you own a business and want to advertise open positions on your own company website's career page, or if you want to create a job advertisement hub where various hiring managers can pay you to set up their own listings on your website.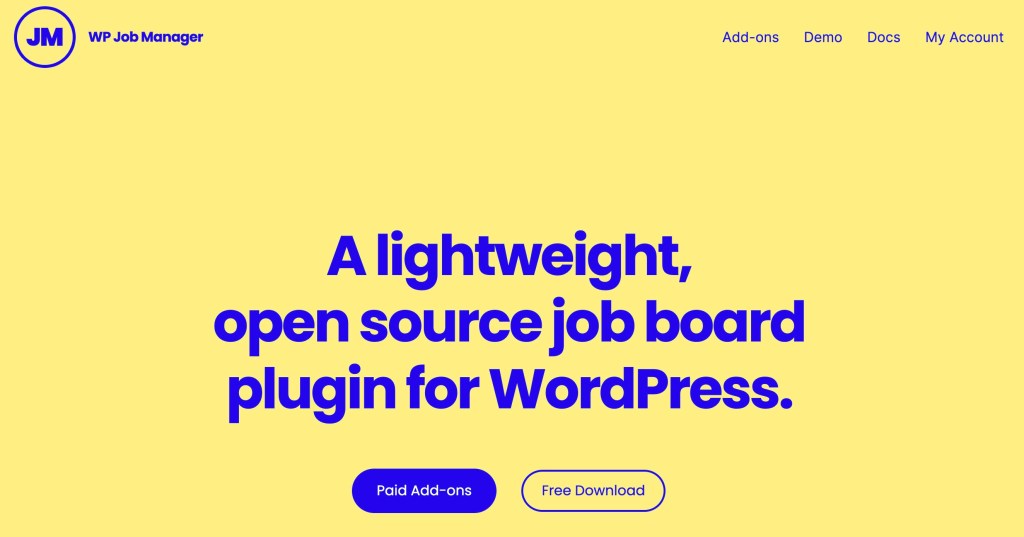 Here are the key features and benefits of WP Job Manager:
Creating effective job ads and simplifying board management:
The simple creation of searchable job boards that users can filter and customize.
The creation of forms for employers to manage job listings effectively
A User-friendly, accessible, intuitive interface.
Use the Jobs Dashboard to manage listings on web pages without the need for admin access.
Choose from a range of themes to set up a job website from scratch, including niche categories, such as babysitter and pet-sitter themes.
Enhancing visibility and searchability:
Customizable RSS feeds for job listings, which can help to showcase job listings on other platforms and enhance visibility.
The plugin uses Google Job Schema to make listings easy to find and read via Google job searches. This is important as more than 70% of applicants now start their job search on Google.
Create job listing pages with unique links for each listing and detailed descriptions.
Making it easier for candidates to apply:
Offer candidates a choice of application options, including email and links.
Provide detailed job descriptions, including locations, categories, and taxonomies.
2. Craft an effective job advertisement with key characteristics
Crafting an effective job advertisement requires attention to key characteristics. It is critical to include a clear and concise title, essential information, and detailed yet succinct job descriptions. This is vital for several reasons:
Attracting relevant candidates: A well-crafted job advertisement ensures that you attract candidates with the necessary experience, qualifications, and skills, increasing the likelihood of finding the right fit for the role.
Promoting transparency: By providing specific roles, expectations, and requirements, the advertisement promotes transparency, minimizing confusion for potential applicants.
Boosting hiring efficiency: Clear descriptions help filter out unsuitable candidates, streamlining the hiring process and saving time and effort.
Ensuring legal compliance: Including all necessary job details helps ensure legal compliance, giving candidates the information they need before applying.
To help you craft an effective job advert, we've provided a basic checklist of key information to include:
Job title.
Job description.
Required skills and qualifications.
Company culture and values.
Location and job type.
Salary and employee benefits.
Company information and background.
A call to action to encourage suitable candidates to apply.
3. Ensure diversity and inclusion in job advertising
Diversity and inclusivity are integral components of healthy, productive, and supportive work environments. Promoting inclusivity and diversity has a positive impact on employee morale, health, and well-being, as well as on company culture and reputation. According to a Glassdoor survey, over 75% of employees value diversity in the workplace, emphasizing the importance of clearly showcasing your company's commitment to inclusivity and diversity in your job adverts.
There are a few key steps you can take to help achieve this:
Use inclusive language and avoid jargon and any terms, words, or phrases that could be deemed discriminatory.
Research and familiarize yourself with legislation in the target country, for example, the Equality Act 2010 in the UK.
Discuss and explore effective strategies to reach diverse talent pools, such as using inclusive language, advertising jobs on diverse platforms, and partnering with organizations that champion diversity.
4. Utilize SEO and data analytics to optimize job ads
Once you have created effective job ads, the next step is to ensure that they are visible. Optimizing adverts for search engines will boost ranking scores and enable more people to find your advertisements and listings, helping to increase applications.
The first key step you should take is to start using relevant, targeted keywords in your job titles and descriptions. By adding industry-specific terms and phrases in your job listings, you can more effectively target relevant candidates that are searching for those keywords and phrases.
For example, if you were looking for an entry-level software developer with some experience in the Python and Django programming languages for a full-time role, you'd reach more relevant candidates with a job title such as 'Full-Time Entry-Level Software Developer (Python, Django)', than with a more generic title like 'Software Developer'.
To measure the efficacy and reach of your job adverts, make sure you harness the power of analytics tools. This will help you to identify areas for improvement and optimize the success of your future listings. Analytic tools also enable you to gauge audience reactions and gain a better understanding of who is interacting with your ads. This is important for planning targeted campaigns in the future.
To help maximize the visibility of your job adverts, you'll also want to take advantage of WP Job Manager's Google Job Schema integration. This ensures that search engines can read job listings easily, enhancing your search ranking and visibility within Google job listings. The top results secure the most clicks, so taking steps to optimize where your job listings appear in the rankings is crucial.
5. Leverage employee referrals and networking
Employee referral programs, which work by encouraging employees to recommend suitable candidates, offer an array of benefits for employers, including:
Faster, more efficient hiring processes: Connect with people who come with a recommendation to speed up the recruitment process
Reduced costs: save on hiring by contacting candidates referred by current employees
Access to top talent: hire people who are known to have the relevant skills and experience
Incentivize your current employees: You can offer incentives to your existing team, such as cash bonuses for successful referrals. This motivates your employees to be an active part of the company culture and mission.

WP Job Manager's frontend forms make it easy for employers to streamline the employee referral process. For example, the Field Editor add-on enables users to add key information fields to forms, such as the names of referees.
Professional networking is a powerful tool for employers and employees to connect and discuss job roles. Both online and offline networking attract passive job seekers, expanding the candidate pool. It fosters engagement and promotes your brand image, making your company more appealing to potential candidates. Networking also offers insights into market trends, in-demand skills, and salary expectations, helping tailor recruitment strategies for attracting top talent. By actively participating in networking events and platforms, employers can secure the best candidates to drive their organization's success.
6. Offer competitive compensation and benefits packages
For many employees, compensation and benefits packages are one of the driving factors when exploring jobs and narrowing down options. As an employer, it's essential to ensure that you are competitive to attract the best candidates and retain top talent. An attractive package for employees can help to make companies stand out and sway candidates towards them.
A competitive benefits package includes a competitive salary complemented by additional perks like health insurance, generous paid leave, retirement plans, flexible working hours, and professional development opportunities.
It's important to research, analyze and evaluate industry standards and benchmarks to stay ahead of competitors. The best ways to learn about salary expectations and benefits include:
Consulting with recruitment agencies.
Using websites like Payscale for salary data according to job title, industry, and location.
Reviewing government data and statistics from industry reports and salary surveys.
Networking with other companies within your industry.
7. Provide a positive candidate experience
The experience of applying for a job plays a vital role in shaping job applicants' perceptions of a company and influencing their decision to accept a job offer. Offering a positive candidate experience is essential for attracting top talent and retaining star employees. To achieve this, focus on tactics such as clear and responsive communication, respectful interactions, and streamlined and efficient application processes. Providing constructive feedback, transparency about the job and application process, and timeliness are also crucial elements. Additionally, ensuring an excellent onboarding process further contributes to a positive candidate experience, fostering a strong and lasting relationship between candidates and the company.
WP Job Manager has a range of features designed to help create a streamlined application process for both employees and candidates. For example, using the jobs dashboard, employers can manage listings without site admin access, monitor applications and edit or remove listings quickly and easily to eliminate confusion and ensure that every ad is accurate and up-to-date.
WP Job Manager also offers a range of application options, streamlining the process for candidates. For example, you can assign an email or a link to each job listing to make the application process easy and efficient for job seekers. Employers will also benefit from simple management and save time and effort by directing incoming applications to a designated location.
8. Monitor and improve your job advertising strategy
It's important to aim for continuous improvement when advertising jobs and connecting with suitable candidates. Monitoring and tracking your progress can help you to identify weaknesses, improve results and outcomes and create a more efficient and effective strategy in the future.
Collecting data and tracking, analyzing, and evaluating key performance metrics will enable you to make improvements. Examples of metrics you'll want to keep track of include application rates, cost per hire, and time to hire. You can use the data you collect to gather information about benchmarking, evaluate efficiency and learn more about existing strategies to make adjustments next time you're looking for new employees.
Get started with WP Job Manager today
Maximizing visibility when advertising jobs is crucial for attracting the best candidates and encouraging job seekers to form positive connections with your company. It's important to craft effective, targeted job ads and listings, but it's also critical to make sure that your ads are accessible and visible to ensure that your company attracts top talent.
There are multiple ways to advertise roles, including using job boards and sites, implementing employee referral programs, and advertising on social media.

If you're looking for new employees, we recommend using WP Job Manager, a useful, versatile, and effective tool for creating and managing job boards on WordPress websites. WP Job Manager allows for the simple creation of searchable, filterable job boards, and boasts a user-friendly interface and application options for streamlined applications for employers and employees.

If you're ready to level up your advertising strategy and attract more qualified candidates, get started with WP Job Manager today!