Want to create a job board website to attract the best talent? You can easily do this on WordPress, and we'll show you how to do it with the WP Job Manager plugin.
In today's competitive job market, having access to a user-friendly job board website is crucial for both employers and job seekers. Such a platform can streamline the recruitment process, making it easier for applicants to find and apply for relevant positions while helping employers identify and hire the right candidates efficiently.
With the right research, tools, and strategy, you can create an exceptional job board website. Whether you aim to hire for a specific role within your organization or want to build a dedicated job board business, this step-by-step guide will equip you with the knowledge and skills to create the best possible job board.
Why job board websites are essential for job seekers and employers
Job board websites have become essential in today's job market for both job seekers and employers. These platforms account for almost 50% of all global job applications and 20% of job hires, underscoring their significance in the recruitment process.
For job seekers, job board websites offer a centralized platform to find and apply for a wide range of job opportunities. These platforms provide access to numerous job listings from various sources, serving as a one-stop shop for job seekers. They can easily filter and search for jobs based on their preferences, such as location, industry, and other criteria.
Job board websites allow job seekers to create profiles and upload their resumes, increasing their visibility and attracting potential employers. This enables job seekers to showcase their skills, qualifications, and experiences, making them more appealing to recruiters. They often offer email alerts and notifications for new job postings in the job seekers' chosen field, ensuring they stay up-to-date with relevant opportunities and never miss out on potential job openings.
For employers, job board websites provide an efficient way to reach a large audience of potential candidates. By posting job openings on these platforms, employers can quickly and easily expand their reach and attract a diverse pool of talent. The ability to filter and search for candidates based on specific criteria allows employers to narrow down their search and focus on qualified individuals who meet their requirements.
Job board websites also offer employers the option to create company profiles, showcasing their company culture, values, and unique offerings. This feature helps companies differentiate themselves from competitors and attract candidates who align with their organizational ethos. They often provide applicant tracking systems, streamlining the application process and allowing employers to manage candidate applications seamlessly.
How to create a job board that attracts the best talent
In this section, we'll share steps and offer advice to help you create a job board that attracts the best talent and caters to your requirements and the needs of job seekers.
1. Planning and research: building a strong foundation
Planning and research form a strong foundation for creating an effective, efficient, and impactful job board website. By researching thoroughly before creating your job board, you can:
Ensure that your job board caters to the needs of the target audience.
Identify potential competitors and differentiate your job board from others.
Inform decision-making related to design, features, and monetization strategies.
Key elements of planning and research include:
Identifying and analyzing competitors and finding out what they offer.
Determining the desired features and functions of job board websites.
Establishing a budget and timeframe for your project.
2. Identifying your target audience and niche
Identifying a target audience and niche for a job board website is important because it allows for focused and tailored offerings. It helps attract the right job seekers, enhances user experience, and increases the chances of successful matches between candidates and job openings. Identifying your target audience will:
Help to create a more focused, relevant platform for employers and job seekers.
Save job seekers and employers time by connecting companies with prospective candidates who have the relevant qualifications and skills.
Increase the chances of building a loyal user base.
Facilitate marketing and promotion efforts.
If you're putting ideas together for a new job board website, here are some useful tips to help you define your target audience and find a niche:
Take inspiration from your interests and consider your professional background, experience, and industry connections.
Analyze the market and look for gaps and underserved sectors and communities.
Identify competitors and evaluate the level of competition within your chosen niche: Is the market already saturated, or are there gaps to fill?
Research target demographics and get to know their needs, requirements, and preferences.
3. Choosing the right job board creation tool
Selecting the right job board creation tool is important as it determines the functionality, customization options, and user experience of the website. A suitable tool should align with the desired features, scalability, and budget, ensuring a seamless and effective job board platform for both job seekers and employers. Choosing the right tool for your job board is essential because:
It impacts user experience, customization options, and the general functionality of your job board website. Selecting the right tools based on your needs, the target audience, and the services and features you wish to provide will help you to provide a job board website that delivers at a high level.
It will affect the overall experience for job seekers and employers.
It influences the ability to scale and grow the website and capitalize on opportunities to monetize the site and expand its reach.
Introducing WP Job Manager for job boards
While popular hiring platforms like Indeed, Glassdoor, LinkedIn, and Upwork exist, creating your own dedicated job board website is often a better choice. This approach offers numerous advantages for companies, including:
Brand promotion: A dedicated job board allows companies to promote and showcase their brand effectively.
Cost reduction: Hiring platforms typically charge per hire and add fees for additional features, whereas creating a dedicated job board website can be more cost-effective in the long run.
Data control: With a dedicated job board, companies maintain control over their data and information, ensuring privacy and security.
Customization: Tailoring the application process to meet specific company requirements and recruitment objectives becomes possible with a dedicated job board, catering to the needs of the target market.
Direct website traffic: A dedicated job board drives traffic directly to the company's website, increasing overall visibility and engagement.
Unique identity: Creating a distinctive job board website allows companies to stand out from the competition and establish a unique online presence.
Business opportunities: Launching a job board business or monetizing the site to generate additional income becomes viable with a dedicated job board.
We recommend WP Job Manager for simple, effective, and efficient job board creation. An innovative plugin designed to make the process of designing job board websites for WordPress easy, WP Job Manager offers a raft of benefits for employers, job seekers, and anyone looking to launch their own job board or start an online job board business.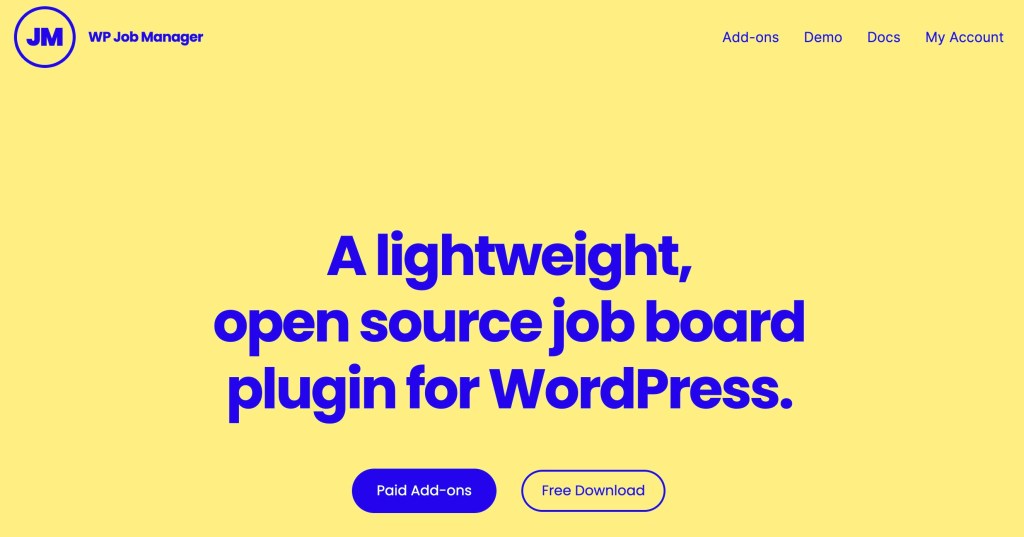 Key features of WP Job Manager include:
Easy job listing creation and management: WP Job Manager allows for the simple, quick creation and easy management of job listings. Boasting an easy-to-use, intuitive interface, employers can post new job listings and vacancies, monitor existing ads, and track and manage applications.
Developer-friendly tools: WP Job Manager is very straightforward and accessible when it comes to web development. It uses shortcodes to add search and filter options to job boards seamlessly, and it's easy to integrate with your existing WordPress setup.
Search and filter options: The search and filter functions enable job seekers to focus on relevant roles based on their preferences and requirements. These functions also enhance the process for employers by filtering out candidates who don't match their criteria.
User-friendly frontend forms: This plugin offers user-friendly front forms for employers, making it easy to submit and manage applications without the need for site admin access.
Familiar user interface (UI) for WordPress users: WordPress users will be familiar with the user interface, making it easy to use and navigate.
Customizable RSS feeds and Google Job Schema: Create customizable RSS feeds for job listings and benefit from optimized postings that can be read by search engines, including Google. This is important since 70% of job searches now begin on Google.
Dedicated job listings pages and Jobs Dashboard: Jobs listings get a unique URL, which provides access to tailored job descriptions and encourages sharing. The Jobs Dashboard allows for easy listing management without site admin access.
Flexible application options: Offer candidates the option to apply via email or by clicking on a link.
Options for locations, categories, and taxonomies: WP Job Manager offers in-built support for locations, categories, and taxonomies to enable users to categorize and organize job listings.
4. Designing a user-friendly job board website
Ease of use is an important consideration when designing a job board website that makes advertising listings or looking for a new job less stressful and time-consuming. If the site is too complex or complicated, users may look elsewhere, and they might not return. Creating a user-friendly site offers the following benefits:
Providing a positive user experience for employers and job seekers
Encouraging returns and referrals. People who enjoy using the site and find it useful and effective will be more likely to return and recommend it to others.
Enhancing your site's reputation and credibility among those looking for a niche job board.
5. Creating and managing job listings
To create and manage job listings with WP Job Manager, follow these step-by-step instructions:
Setting up WP Job Manager
Install the WP Job Manager plugin: Log into your WordPress site and search for the WP Job Manager plugin in the Plugins section.
Click 'Install': Find the WP Job Manager plugin in the search results and click 'Install.'
Activate the plugin: Once the plugin has been successfully installed, click the 'Activate' button.
Run the Setup Wizard: Once the plugin has been activated, you will be asked to run the Setup Wizard. Click on the icon to continue.
Start Setup: you will be taken to the WP Job Manager Setup Wizard. Click 'Start Setup' to proceed.
Choose your pages: The next step will take you to 'Page Setup.' Select the pages you want to set up and tick the relevant checkboxes. Examples of pages you may want to choose include job listings or submission forms.
Confirm your selection: Click on the blue 'Confirm' button when you've selected the pages you want.
Creating your first job listing
Navigate to the Job Listings icon on the sidebar and click 'Add New'.
Fill in the listing details: These may include the title, location, full-time or part-time hours, and job description. Choose a job type and add your company logo.
Preview your job listing: Check the details before the listing goes live by viewing a preview. Make any required adjustments before you move to the next step.
Publish your listing: Hit the 'Publish' button to post your listing.
Choose when the listing goes live.
Repeat for new listings.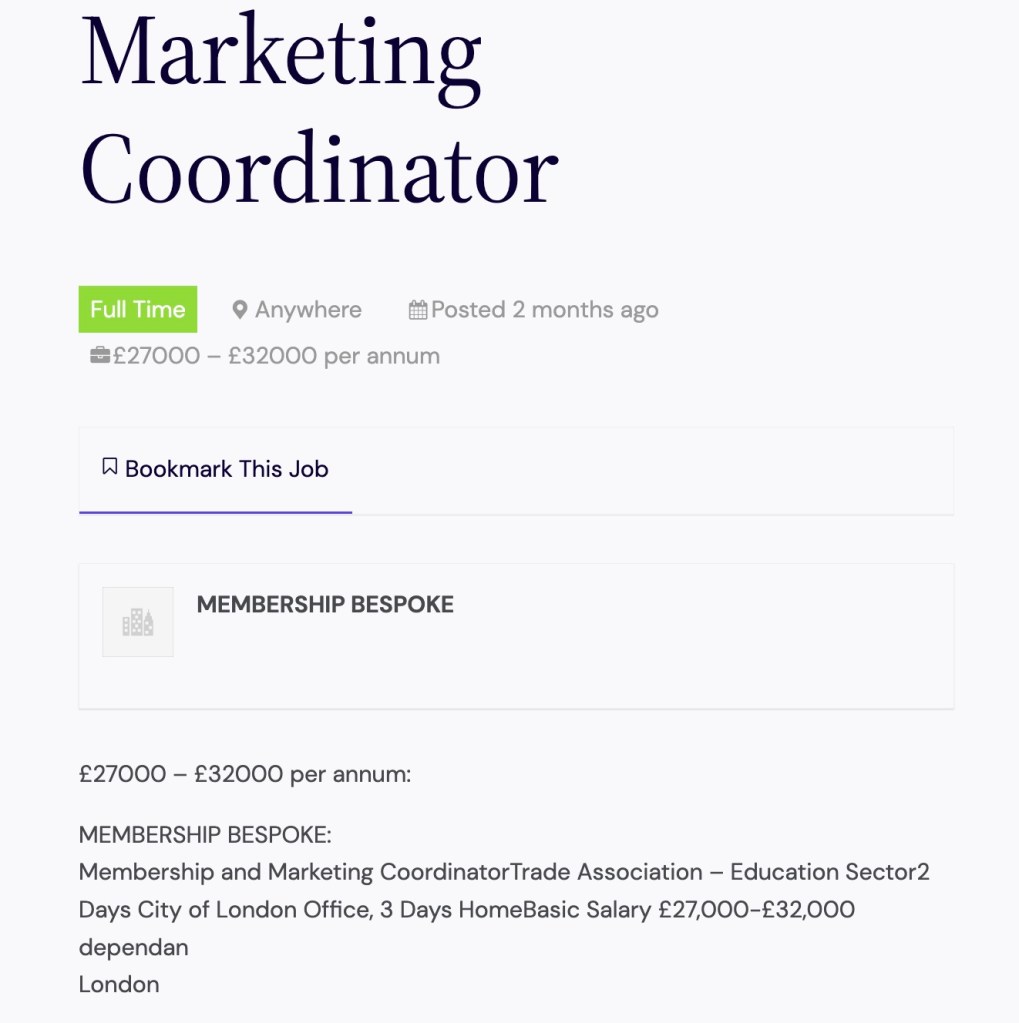 Customizing your job board
Go to the Job Listings tab and click on 'Settings'.
Open Job Listings in the 'Settings' tab.
Adjust the settings you wish to customize and configure, for example, choosing listing categories and changing the number of job posts per page.
Click 'Save Changes'.
Creating frontend forms for employers
Open the WP Job Manager plugin.
Click on 'Add a job via the front end'.
Add the job details.
Click on 'View Preview' and make any final adjustments.
Click on 'Submit Listing'.
Getting your post listed on Google Jobs
Follow instructions from Google's Guide to enabling API indexing for Google Jobs.
Go to 'Job Listings' on your WordPress website and click on 'Add-Ons'.
Search for Google Indexing API for WP Job Manager and click 'Install'.
Copy the private Google Indexing API key and enter the email address you used.
Your job listings will now be optimized for Google Jobs: This will increase the visibility of your listings and expand your reach.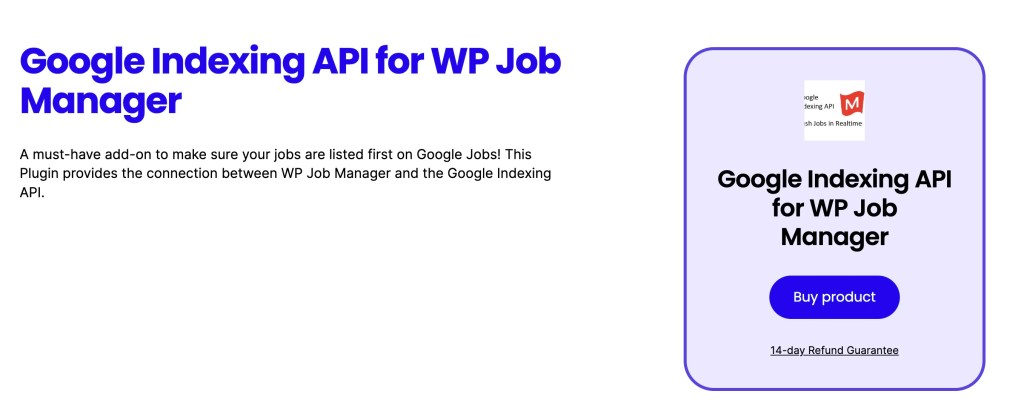 6. Monetizing your job board website
Monetizing a job board website is essential for ensuring long-term sustainability and profitability. By generating revenue, the job board can cover operational costs, invest in future growth, and continuously improve its features and user experience. It also enables the website to allocate resources to marketing and promotional efforts, attracting more users and expanding its reach in the job market.
There are various common monetization strategies for job board websites:
Charging employers to post job listings.
Charging users to access premium features, for example, featured listings.
Offering subscriptions for employers, which provide access to advanced search functions and extensive databases for CVs and resumes.
Offering companies the opportunity to advertise and share sponsored content.
Forming partnerships and affiliate programs to promote relevant products and services.
If using WP Job Manager, you can use the Simple Paid Listings add-on to make money by charging to post job listings. Features of this add-on include:
Price and payment: Set a price per listing and take payment when the job is submitted. You can accept payments via Stripe or PayPal before the listing is published.
Stripe and PayPal support: Utilize Stripe or PayPal to accept user payments via Stripe Checkout or redirection to PayPal. Enable auto-return to ensure customers return to your website after making a PayPal payment. With Stripe Checkout, customers use a credit card checkout form, which confirms payment instantly.
Security: Protect your customers and enhance your reputation by promoting security on your site. It's beneficial to set up SSL when using Stripe Checkout.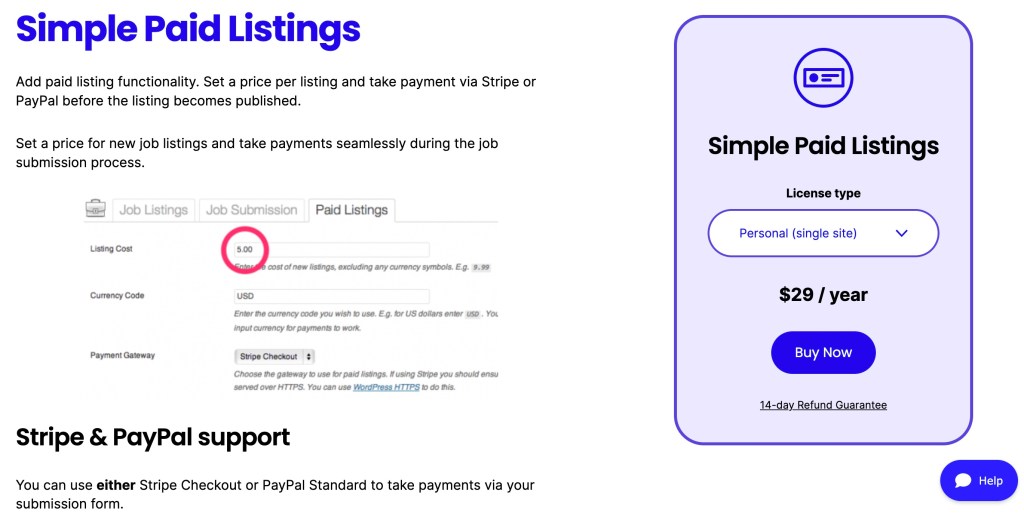 7. Marketing and promoting your job board website
To achieve the best results, you'll need to market and promote your online job board to reach target users, attract them to your site and encourage them to search for jobs or post listings to find suitable candidates. Marketing and promoting your site is important for:
Enhancing online visibility and making your job board website easy to find and access via search engines, social media, career pages, and company websites.
Raising awareness of the site among employers and job seekers.
Establishing a strong online presence enables you to compete with others and attract new users.
Encouraging existing users to return to your site and recommend it to others.
Optimizing content for search engines, social networks, and job aggregators.
Here are some tips to help you market your site effectively:
Use targeted SEO (search engine optimization) strategies to boost search rankings and increase organic traffic.
Capitalize on the popularity of social media platforms and online communities to share job listings and reach your target audience.
Use email marketing to promote user engagement and keep users in the loop about new listings and updates.
Take advantage of networking opportunities and industry events to promote the job board website and create new, high-quality leads.
Take action and launch your job board website today
Job board websites play an increasingly integral role in modern-day recruitment and hiring processes. As well as providing incredible opportunities for employers to search for talented candidates and job seekers to find their dream roles, it's also possible to monetize job boards and launch a successful job board website business.
If you're looking to create a job board website, it's essential to plan and research, identify a target audience, choose the right site creation and design tools, and promote and market your job board to attract attention. You can use dedicated tools, such as the innovative WP Job Manager WordPress plugin, to create effective, easy-to-use job board websites that cater to the needs of employers and job seekers.
If you're keen to get started, why not launch your job board website today with the help of WP Job Manager?