Have you considered the benefits of using a job board to attract top talent to your business? It's never easy to hire the right person for the job, but there are a couple of ways to increase your chances of filling a role with the perfect candidate.
Job boards are quickly becoming the de facto method of hiring talent into a company, and with the number of job board tools and features available, it's never been easier to set one up yourself.
In this guide, we'll be providing an in-depth look at job boards and their benefits when it comes to talent recruitment. We'll be exploring their essential features and discuss how to use them effectively to find the right people for your company.
Introduction to job boards
Job boards are online platforms where employers can post job openings. Job seekers can then register for the job board and apply to these jobs with a range of simple and often automated features to make the application process fast and easy.
For example, job boards allow job seekers to filter job listings by criteria such as job type, location, and industry. There are many different online job boards that companies can sign up for to post listings, with two of the most popular examples being LinkedIn and Glassdoor. Companies may also run their own job boards with lists of open positions; this is particularly effective for larger businesses that are advertising for multiple different positions at once..
Job board sites have been around since 1992 when Bill Warren introduced the "Online Career Center". This was initially a bulletin board that eventually merged with Monster in 2005. There were numerous benefits to using online job boards around this time versus the traditional method of newspaper advertisements. There were far more relevant ads for jobs, it had wider coverage across industries, there were no geographic constraints, and it was a lot more cost-effective to list job openings.
In the modern job market, job boards account for around a fifth of job hires worldwide. There are also newer advances, such as niche boards for certain roles, job aggregators, and even social networking websites that function similarly to job boards.
Job boards are part of a wider ecosystem for online job advertising, so before we move on to the benefits of using job boards to post about your next open position, let's quickly go over some key definitions:
Job boards, as we've seen, are platforms for employers to post job listings directly.
Job search engines index job listings from a number of sources. This includes job boards and company websites.
Job aggregators work similarly to job search engines, pulling listings from different sources. However, they redirect applicants to the original job listing when they apply.
The benefits of job boards for job seekers and employers
Regardless of whether you're using a job board, job search engine, or job aggregator, these websites act as centralized platforms to attract talent. Companies can use them to attract job seekers, and job seekers can use them to find job openings that are relevant to their skills and experience. Everyone that uses a job board, job search engine, or job aggregator benefits in some way.
Employers get a cost-effective way to advertise job openings, and they can tap into a larger pool of talent thanks to the removal of geographic restrictions. They also get a variety of tools to filter and screen potential applicants, making it easier to ensure they find qualified candidates.
Job seekers have a way to search through thousands of job opportunities and then apply to them with a simple and straightforward application process. They get access to customizable searches and powerful features like job matching and job alerts, and they can showcase their skills and qualifications through their online resume and cover letter.
Job listing sites also benefit by monetizing their platforms. This is done with paid listings and other similar premium features.
Types of job boards
As we've already touched on, there are several different kinds of job boards that employers and potential candidates can make use of:
Self-hosted job boards – managed by companies on their own websites, often using tools like WP Job Manager for direct control over listings and application processes.
General job boards – list jobs across all industries and professions. Some popular examples include Indeed, Monster, and CareerBuilder.
Industry-specific job boards – list jobs across all professions in a particular industry. Examples include Dice for tech and Mediabistro for media.
Location-based job boards – focus on jobs in a specific region, city, or general location, often including generalist listings for all available jobs in that area.
Niche job boards – cater to specific job types or circumstances, such as freelance work, remote work, or internships. We Work Remotely is a popular example of a job board specializing in remote-only positions.
Company career pages and internal job boards – larger companies can often have multiple job vacancies open; in these cases, it's common to have an internal job board or company career page where job seekers can make a direct application.
Government and non-profit job boards – used by the public sector and non-profit organizations, catering to these specific areas.
Alternatives to job boards
As well as the various different types of job boards listed above, there are a number of other tools and options that complement job board listings. These include:
Networking: Attending industry events and joining professional associations to learn about job opportunities through word of mouth. This also includes social media connections.
Recruitment agencies: These companies work with recruiters to find qualified candidates for job openings.
Company career pages: These are used by companies to find job seekers directly instead of going through a middleman.
These methods for attracting candidates come with their own advantages and disadvantages and shouldn't be used as a replacement for job board listings. Rather, they should be used as a complement to the listings. Let's explore some of the pros and cons of employing each method as part of a wider recruitment strategy.
Networking
Pros
Useful even when businesses aren't specifically recruiting – can lead to unadvertised job opportunities for applicants or enable businesses to spot talent for future openings.
Provides a chance to make a personal connection with candidates, giving a better sense of whether they are a good fit for the job.
Allows for in-depth candidate, company, and role understanding, helping to determine if a candidate is a good fit for a position.
Cons
A time-consuming process with no guaranteed positive outcomes.
Requires social skills and comfort in social situations.
Not all industries, roles, and talent are equally accessible through networking.
Recruitment agencies
Pros
Specialized knowledge and resources for finding and engaging with high-quality candidates.
Can streamline the hiring process by reducing the number of unqualified leads that a business needs to interact with.
May have access to a broader pool of candidates.
Cons
Can be costly for employers.
Recruiters may not fully understand the company culture or specific role requirements.
Candidates may be limited by the agency's network.
Company career pages
Pros:
Company career pages provide candidates with direct access to detailed information about the company, its values, culture, and available job positions.
Career pages offer job descriptions that are specifically tailored to each position, helping candidates assess their suitability and increasing the likelihood of finding the right fit.
Company career pages allow organizations to showcase their employer brand, culture, and success stories, creating a positive impression on potential candidates and attracting top talent.
Career pages typically offer a user-friendly application process, allowing candidates to easily submit their resumes, cover letters, and other necessary documents.
Cons:
Unlike job boards or networking, career pages may have a limited reach as they primarily target candidates who actively visit the company's website, potentially limiting the pool of applicants.
Depending on the company's hiring needs, career pages may not always have a wide range of job opportunities available, especially if the organization is not actively recruiting.
Relying solely on company career pages may cause candidates to miss out on unadvertised job opportunities that can be discovered through networking or connections.
While career pages aim to provide information about the company, they may not always offer a complete picture, leaving candidates with questions or uncertainties about company policies or the work environment.
Job boards
Pros
Wide reach to a large number of potential candidates.
Cost-effective method for posting jobs.
Can target specific industries, roles, or demographics.
Cons
May result in a high volume of less-qualified candidates.
Lack of personal connection compared to networking.
General job boards may lack specialization.
Choosing the best job boards for your needs
When choosing a type of job board to use, it's important to consider factors like your industry, location, job type, company size, and reputation. You should focus on comparing job boards based on their features, user reviews, and also how popular they are with job seekers.
As an employer, it's important to target platforms that attract the best candidates for your roles. This may involve seeking out niche job boards to find highly specialized team members, or using premium features so that your listing can stand out from the competition. It's also a good idea to utilize analytics to optimize your job postings, such as including important keywords.
If you decide to create your own job board, then you can benefit from having total control over the branding and user experience. This creates a more personalized experience for candidates, and you don't have to pay for listing fees. However, it does take a bit more work than simply posting a listing on a job board.
WP Job Manager: Your ultimate job board solution
If you're interested in creating your own job board, then WP Job Manager is a robust and user-friendly plugin that has been widely adopted for job boards.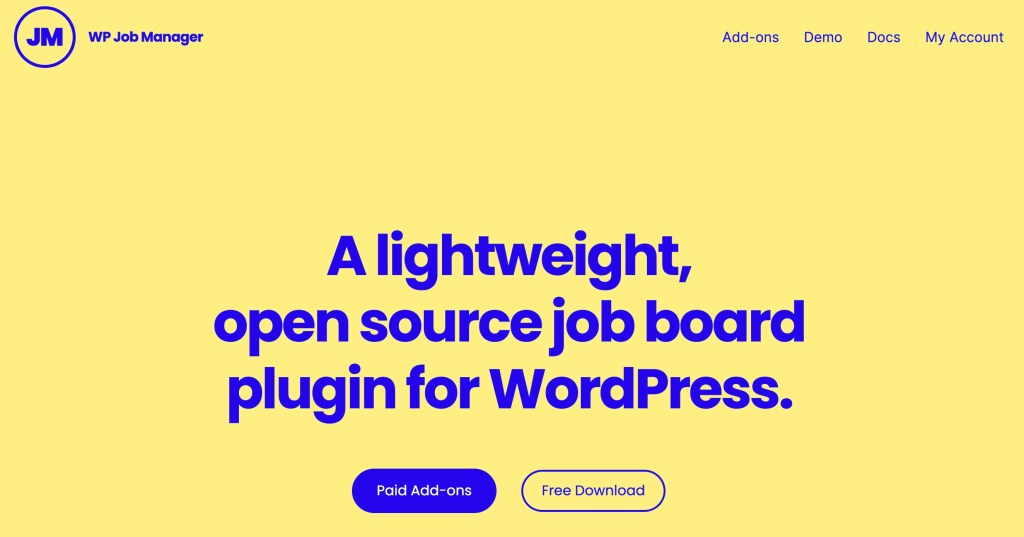 It offers a highly customizable list of settings, a fully searchable job board, Google Job Schema integration for effective search engine optimization, and even a customizable RSS feed for wider distribution.
The built-in Jobs Dashboard allows employers to set up a page on their website to manage job listings without the need for admin access. The Apply Options setting also allows each listing to be assigned an email or link that can be used to submit applications, helping to streamline the job application process. And, if you need even more functionality, WP Job Manager also offers a catalog of available add-ons for additional features.
WP Job Manager can be a huge benefit to businesses of all sizes, recruitment agencies, HR managers, event organizers, and even freelance market operators. If you've ever thought about creating your own job board, then WP Job Manager can be a fantastic solution for you.
Create your own job board with WP Job Manager
Job boards offer a wide array of benefits for both recruiters and job seekers. They can drastically improve the chances of a business finding the right candidate for specific jobs and also helps job seekers find new opportunities.
To get the most out of your job listings, you can build your own job board with WP Job Manager. This powerful plugin comes packed with features to streamline the application process, provide a better experience for your candidates, and even boost the visibility of your job listings through Google Job Schema integration.

Get started with WP Job Manager today to take your job listings to the next level and streamline your recruitment journey.