Looking for the best job site to advertise your latest job vacancy without incurring any costs?
While advertising your position for free significantly trims down recruitment expenses, attracting top-notch candidates isn't just about cost-cutting – it's about ensuring your vacancy reaches the right eye. And with numerous job boards out there, it's easy to get lost. But worry not, we've got you covered.
This article unveils the ten best free job posting sites for employers where you can list your job openings. We'll run through everything about savvy tools and integrations that amplify the reach and impact of your job postings, making sure you always hire the best. Stay tuned!
Understanding the value of free job posting sites
Every penny counts, especially for budding startups and small to medium-sized businesses with tighter budgets. That's where the allure of free job posting sites comes into play.
Here's why:
Broadened horizons: These platforms offer access to vast pools of candidates, increasing the chance of finding the ideal match.
Diverse platforms for varied needs: From tech startups to established retail giants, free job posting sites cater to various industries and regions, ensuring tailored hiring solutions.
Beyond just listings: Many of these sites are holistic recruitment hubs, offering application tracking, resume databases, and job management tools.
Addressing traditional hiring woes: Free job sites replace old, costly, and slow methods with efficient, wide-reaching, cost-effective alternatives.
The bottom line? Free job posting sites are a powerful recruitment tool reshaping the way businesses hire. And for businesses eager to streamline even further, there are tools like WP Job Manager to simplify the process. But more on that later!
Identifying your ideal job posting site
Navigating the world of job posting is like venturing into a vast marketplace. Here's what you need to consider:
Understand the terrain: Different job sites target specific roles or sectors. Choose the one that reaches your target audience.
Ease of the experience: A good platform is user-friendly, making job posting and managing job listings a breeze.
Your own turf matters: Advertising on your website attracts brand-loyal candidates and offers branding control.
To go premium or not to go premium?: Consider premium features on job sites for enhanced visibility based on your needs and budget. Premium features are tools that help users create resumes, get career coaching, do video interviews, receive job alerts, and assess their skills. These features enhance the user experience and provide more value to both job seekers and employers.
Diversify your postings: Spreading your ad across multiple platforms can yield diverse applicants. There are tools that can assist with managing multiple postings and we'll dive deeper into those soon.
Tailor your approach: Customise recruitment strategies based on industry, job level, and budget. Choose platforms accordingly.
Our top 10 free job posting websites
Navigating the recruitment scene can be daunting, especially with an endless number of platforms vying for your attention. In this section, we've handpicked and curated a list of the top 10 best free job posting sites for employers.
1. LinkedIn
Ah, LinkedIn! This isn't just any social platform – it's the arena of professionals, a digital networking hub. Predominantly known for its dedication to connecting job seekers, employers, professionals, and businesses, LinkedIn has carved a unique niche in the vast world of social media.
Features at a glance:
Targeted job posting: With its free version, LinkedIn offers employers six search filters. While this is limited compared to the 40+ filters in the premium version, it's still a great option for those on a tight budget.
Robust search and matching: The platform intelligently matches candidates based on their skills, experience, and job preferences, ensuring you get the most relevant applicants.
Unparalleled networking: With countless professionals interacting daily, the networking opportunities here are vast.
Analytics and insights: Track the performance of your listings. Bear in mind, with the free version, manual tracking will be the name of the game.
Reach & user base:
LinkedIn offers diverse professional profiles, showcasing skills, and achievements; the free version limits to 3rd-degree connections. Interestingly, 72% of recruiters use LinkedIn, showcasing its effectiveness.
Free vs. premium:
LinkedIn has both free options vs. premium options. It allows one free 30-day job post but also offers a number of tailored paid hiring products.
2. Indeed
When it comes to job search engines, Indeed stands tall. Indeed is one of the largest and most popular job sites in the world, with over 250 million unique visitors per month.
Indeed offers a simple and fast way to search for jobs across millions of listings from thousands of sources, including company websites, job boards, newspapers, and more. It also provides various tools and resources for job seekers, such as a resume builder, salary calculator, career advice, and more.
Features at a glance:
Vast listings: Indeed's database is a melting pot of job listings, aggregating opportunities from myriad websites, company career pages, and job boards. It's truly a one-stop shop for job hunters.
Advanced search: Users benefit from robust search and filtering tools, making the hunt for the perfect job a breeze.
Resume boost: Job seekers can also post their resumes, enhancing their visibility to potential employers.
Insights galore: Company reviews provide a window into organisational culture, aiding job seekers in making informed decisions.
Stay updated: With the job alerts feature, users are always in the know about the latest opportunities tailored to their preferences.
Reach & user base:
Indeed is the number one site for jobs and careers in many locations. It attracts global job seekers across sectors, highlighting its effectiveness and popularity.
Recruitment dynamics:
Free job posts get buried with time; premium options maintain visibility.
Premium offerings:
Sponsored jobs ensure top visibility, relevant matches, and a cost-effective pay-per-application model.
3. Google for Jobs
Who hasn't turned to Google for answers? But did you know it's also revolutionizing the job-hunting scene? While not strictly a job site, Google for Jobs harnesses the might of the search giant to refine and elevate the job search journey.
Features at a glance:
Abundant listings: Google for Jobs curates listings from an array of sites and Job boards, ensuring job seekers don't miss out.
Seamless integration: Google has woven job search into its primary search engine, allowing users to access opportunities without leaving Google.
Refined search: With advanced filtering options, finding that dream job becomes a straightforward affair.
One-click access: Job seekers can hop directly onto job boards from the listings, making the application process smoother.
Zero listing cost: Companies and recruiters can list jobs at absolutely no cost, a boon for businesses on a budget.
Reach & user base:
Google dominates with 70% of job searches starting there, reflecting its vast influence.
Optimizing your listing:
For visibility on Google for Jobs, listings require optimization through structured data and integration with tools that offer Google job tie-ins ensuring that your listing gets the visibility it deserves.
4. SimplyHired
Job hunting or recruiting, everyone's looking for that edge. SimplyHired is an online job search platform that seamlessly blends free job listings with a unique pay-to-reveal model, and, here's the best part, its extensive cross-posting capabilities.
Features at a glance:
Innovative pricing: You can list jobs without spending a penny. However, the game-changer is the pay-to-reveal model. You only shell out when you pinpoint specific applicants you're planning to connect with. Value for money? Absolutely!
Vast reach with cross-posting: SimplyHired doesn't stop at its own platform. Your job listing gets maximum visibility, being showcased even on titans like Indeed.
Résumé trove: Dive into their extensive résumé database to fish out potential candidates.
Allied networks: Its vast network of partner job boards ensures your listing gains maximum traction.
Assessing your next star: Their candidate evaluation tools allow you to sift through the pool and identify the brightest spark.
Reach & user base:
SimplyHired has a broad reach and can be used for a variety of industries. It is particularly popular for entry-level or low-skill jobs.
5. Jobcase
Jobcase is a social media platform for workers, where they can share their work experiences, ask for advice, and find support from other members.
It also helps workers find jobs that match their skills, interests, and goals, by connecting them with employers and recruiters who value their potential. Jobcase also offers a range of services and benefits for workers, such as career coaching, financial wellness, legal assistance, and more.
Features at a glance:
Freebies galore: Post that perfect job listing without digging deep into your pockets. The base service doesn't cost a dime.
Hiring redefined: Their innovative hiring event solutions, both physical and virtual, ensure you connect with the best in real time.
Multichannel approach: Jobcase isn't just one platform. It's an ecosystem of channels, ensuring wider visibility.
Foster connections: With its robust community tools, employers and potential candidates aren't just names on a screen. They connect, engage, and build lasting relationships.
Tailor-made solutions: Jobcase understands one size doesn't fit all. They offer customized hiring solutions to meet specific needs.
Targeted audience:
Jobcase is a magnet for hourly workers, tradespeople, and healthcare technicians.
Pricing:
While free is fantastic, Jobcase offers promotional services from $25 for enhanced listings.
6. PostJobFree
PostJobFree is a free job posting site that allows employers to post unlimited jobs without any fees or registration.
PostJobFree also distributes job ads to other job boards and search engines, such as Indeed, ZipRecruiter, Google Jobs, and more. PostJobFree also enables employers to search for resumes and contact candidates directly.
Features at a glance:
A treasure trove of resumes: Dive into their extensive resume database to unearth the perfect fit for your role.
Track to attract: The intuitive applicant tracking system ensures no potential candidate slips through the cracks.
Syndicated success: When you post here, you aren't just posting on one site. Your job listings get the VIP treatment, being syndicated across major job boards for maximum visibility.
Flexible options: From free listings that get you started to comprehensive paid options that supercharge your recruiting, PostJobFree has got you covered.
Globally connected: Whether you're hiring locally or casting a wider net internationally, this platform has a reach that few can match.
User base & reach:
PostJobFree has a user base of 2.1 million global job posts and 7.4K weekly resume uploads.
Pricing:
It offers robust free options and premium plans ranging from $29-$399/month for enhanced features.
7. Jora
Jora is a global job search engine on a committed quest to strip down the complexity of job hunting, ensuring an uncomplicated experience for both the seeker and the employer.
Features at a glance:
No-cost listings: True to its commitment, Jora permits users to announce up to 100 job positions free of charge each month.
Sponsored visibility: Amplify your reach with the option to sponsor your job ads, ensuring they never go unnoticed.
Seamless integration: Whether you're using XML or JSON feeds, Jora ensures your job ads integrate smoothly – and this too, at no extra charge.
Effortless applications: The platform prides itself on a streamlined and user-friendly application process, putting job seekers at ease.
Hone In with filters: Jora's advanced search filters allow candidates to find exactly what they're looking for.
User base & reach:
Jora has a presence in 25 countries, especially prominent in Australia as the third top job search site.
Pricing:
Jora offers free listings and for sponsored posts, you'll need to contact them for a custom quote.
8. Handshake
Handshake is a recruiting platform tailored specifically for students and fresh graduates.
Features at a glance:
Student network: Tap into a broad and dynamic pool of young talent waiting to be discovered.
Proactive searches: Their dynamic candidate search allows employers to find potential hires with precision.
Direct communication: Engage with prospective hires through direct messaging, ensuring clear and efficient communication.
Seamless integration: Worried about adding another tool to your HR tech stack? Handshake plays well with popular Applicant Tracking Systems like Workday and Greenhouse.
Data at your fingertips: Equip yourself with actionable insights through Handshake's analytics.
Brand boost: Elevate your employer brand with rich media, genuine candidate reviews, and compelling employee testimonials.
User base & reach:
This platform boasts a network of 13 million students and alumni. With over 850,000 employers and more than 1,400 academic allies, Handshake establishes itself as the nexus of early career recruitment.
Pricing:
Handshake has free basic features and a premium suite with six tailored modules: Talent Engagement Suite, Events, Insights, Advocates, ATS Integrations, and Expert Assist.
9. JobLookup
Seeking an uncomplicated and effective way to advertise job vacancies in the UK? Look no further than JobLookup, a sleek platform engineered to de-clutter and enhance the recruitment process.
Features at a glance:
Limitless listings: JobLookup allows employers to freely post an unlimited number of job listings, ensuring extensive exposure.
Cutting-edge matching: Utilising advanced algorithms, the platform ensures candidates closely aligned with job requirements come your way.
Control at your fingertips: Manage job posts and track applications effortlessly through the integrated employer dashboard.
Precision in searching: JobLookup's targeted search functionality aids job seekers in finding roles best suited to their expertise.
Extended visibility: Unlike typical job sites that keep your listings live for a month, here they remain active for up to 90 days, tripling the chances of the right candidate spotting them.
User base & reach:
JobLookup primarily focuses on the UK job market, making it vital for those seeking British talent.
Pricing:
JobLookup offers free job advertising, prioritizing basic posting over extensive functionalities.
10. Startupers
Emerging businesses, this one's for you! Startupers is a job board meticulously crafted for the bustling world of startups. As innovation accelerates and startups mushroom, so does the need for a niche platform that speaks their language.
Features at a glance:
Simplicity first: A clean, user-friendly interface ensures employers and candidates navigate with ease.
Boundless opportunities: Whether you're scouting for a tech prodigy in Silicon Valley or a freelance genius in Berlin, Startupers has it all. From entry-level to niche roles, there's something for every startup need.
Quality over quantity: Not just any job gets a place on Startupers. Every listing undergoes meticulous human review, guaranteeing only the most relevant and accurate roles are showcased.
Tech at its heart: With a pronounced lean towards tech roles, it's the perfect platform for startups in the tech arena.
User base & reach:
Primarily U.S.-based but with a global presence, Startupers connects startups to a diverse talent pool worldwide.
Pricing:
Startupers provides free job postings, aiding budget-conscious startups.
Introducing WP Job Manager: Your complete hiring solution
While leveraging the power of popular free job posting sites is pivotal for ensuring maximum visibility, a more personalized touch awaits on your very own WordPress website.
Maintaining a WordPress website comes at a cost – from hosting expenses to charges for premium themes/plugins. However, the flexibility it offers surpasses the benefits of premium job boards. While WPJM is available for free, its premium extensions can significantly enhance your job board.
Hosting job listings on your own site gifts you unmatched customizability. You dictate the look, feel, and user journey of each listing, guaranteeing a seamless brand experience for every potential candidate. Here's where WP Job Manager (WPJM) becomes a game-changer!
WP Job Manager Features:
User-centricity at its best: WPJM is known for its intuitive interface. Posting and managing job listings has never been more straightforward.
Developer's delight: With developer-friendly features, customization is a breeze.
Power of search: Candidates can effortlessly search and filter through listings, ensuring they find their ideal role in no time.
Job target integration: Post jobs across multiple platforms via its JobTarget integration without breaking a sweat. It's all about getting more done in less time.
Shine on Google: With the Google Job Schema feature, your listings enjoy enhanced visibility on Google, driving more organic traffic.
Frontend forms: Empowering users, WPJM lets anyone submit and manage job listings with unparalleled ease.
Centralized control: Manage all job listings from a singular point using the jobs dashboard without the need to dive deep into site admin.
Robust filtering: Thanks to WPJM's supported taxonomies, job filtering is in-depth and precise. Candidates can filter based on specific categories, job types, and more, ensuring they land the role that aligns with their aspirations.
Redefining applications: With the Applications add-on, WPJM takes candidate engagement to the next level:

Candidates can apply via dedicated forms, and every application is securely stored in the database.
Every application is systematically listed in both the employer's job and the admin dashboard.
Privately rate, comment, and ensure every application receives the attention it deserves.
In a nutshell, WP Job Manager doesn't just simplify the hiring process; it redefines it. Embrace WPJM and transform the way you hire!
How to integrate your job listings with the best job sites
Navigating the digital job market can seem daunting, especially when your goal is to maximize the visibility of your listings across multiple platforms. However, with WP Job Manager's (WPJM) integration with JobTarget, this process becomes incredibly streamlined.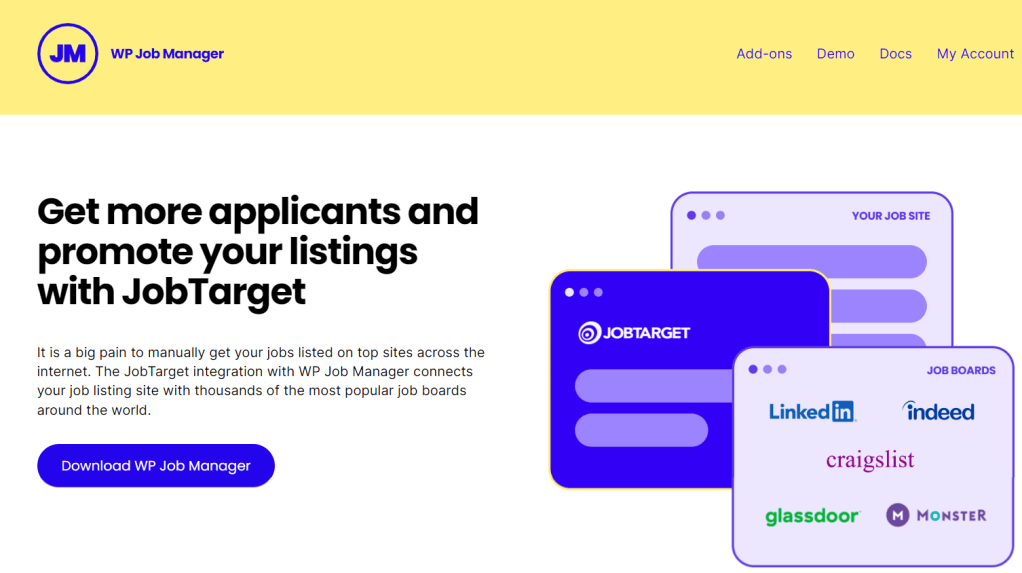 Why JobTarget?
WPJM's integration with JobTarget ensures that you're tapping into a network that boasts over 25,000 job boards, including heavyweights like LinkedIn and Indeed, not to mention countless niche and local platforms. The major advantage? Say goodbye to the hassle of manually posting on each site.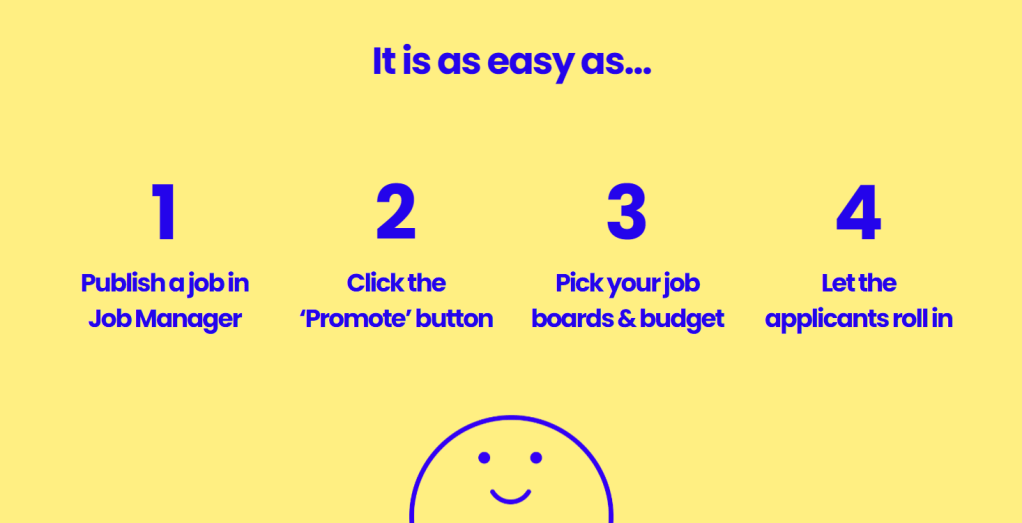 The integration process:
Install and set up WPJM: Start by installing WPJM and setting up WPJM on your WordPress site.
Publish a job: Once WPJM is up and running, go ahead and publish your job listing.
Promotion time: On the job listing, you'll find a 'Promote' button. Click on it.
Choose your board and budget: A list of available job boards will pop up. Simply pick your preferred ones and set your budget for each.
Reaping the benefits: The beauty of integrating WPJM with JobTarget lies in its simplicity and efficiency. By just publishing a job on your WordPress website, with a few clicks, you determine where else it gets promoted. This ensures that your newest roles get the attention they deserve, cutting through the noise and reaching the right candidates.
By leveraging WPJM and JobTarget together, your recruitment efforts are not only simplified but supercharged. Say hello to hassle-free job postings and a broader candidate reach!
Transform your hiring process with WP Job Manager today
Recruiting top talent is crucial for any organization and the platform you choose to advertise job openings greatly impacts the effectiveness of the hiring process. However, while choosing the right platform is essential, having a centralized tool to integrate and manage your job listings is just as critical. This is where WP Job Manager comes in.
WP Job Manager is a preferred choice for recruiters compared to utilizing free platforms because it offers several advantages, such as:
Ease of use: WP Job Manager is an extremely easy-to-use WordPress job board plugin that allows you to create and manage job listings with simple shortcodes.
Customization: WPJM lets you customize your job board according to your needs and preferences. You can add additional features, fields, filters, and more with premium add-ons.
Integration: It integrates seamlessly with WordPress and other popular plugins, such as WooCommerce, WPForms, Elementor, and more. You can also use it with any WordPress theme of your choice.
Monetization: WPJM allows you to make money online with paid job postings, resume access, featured listings, and more. You can use WooCommerce to accept payments and manage subscriptions.
WPJM is a powerful and flexible plugin that can help you create a professional and attractive job board on your WordPress site.
Traditional hiring can be marred with hurdles: exorbitant costs, tedious manual postings, and limited reach. WPJM adeptly addresses these issues, making hiring not just efficient but also cost-effective. Notably, its Google Job Schema feature further boosts your listings' visibility, ensuring they rank prominently on Google's job search.
So, why wait? Start using WP Job Manager today and usher in a new era of streamlined, effective, and expansive hiring for your organization.