Have you been looking to start a job board on your WordPress website? If so, then you're probably looking for the perfect template to get you started. There are lots of job board themes that offer pre-built layouts for all of the different sections of your website. As such, it can be a little daunting at times to pick one, especially if you're not sure how to format your job board for maximum success.
In this post, we're going to explain why job board website templates are important, what themes you should consider, and also how to get your WordPress job board set up with help from WP Job Manager.
Introduction to job board themes
A job board theme, similar to themes and templates for other kinds of websites, is utilized to create a professional and user-friendly job portal on your website. Such a theme is relatively simple to set up and can save a significant amount of time when developing your job board WordPress website, particularly if you lack design expertise.
However, what key features should you consider when searching for job board themes? Here are several essential ones:
User-friendly navigation that is easy to use and offers intuitive search functionality.
Customizable features that give you flexibility in terms of how the job board looks and functions.
Mobile responsiveness to make your job board usable for people on smartphones and tablets.
Integration with WordPress plugins to extend your job board's functionality and automate important processes.
SEO optimization features to make your job board easy to find on Google.
Monetization options to increase revenue from your job board, such as listing fees.
Support and updates to ensure the longevity of your job board.
Job board themes not only provide various features for the effective management of job listings, applications, and resumes, but they also prioritize easy management within the WordPress backend. A reliable theme will include a user-friendly interface that empowers employers and recruiters to effortlessly create and manage listings with just a few clicks.
Depending on the theme you choose, you may also have access to essential features such as pre-made application forms that facilitate seamless submission and tracking of applications, and resume management systems that simplify the process of uploading and sending resumes to recruiters. However, you don't necessarily need these features to be included in your theme, since you can get them in a dedicated job management plugin like WP Job Manager.
Why job board themes matter
Job board themes are important for both employers and job seekers, offering numerous important benefits.
Employer benefits include:
Efficient job posting: Easily create and publish job listings, saving time and effort in the hiring process.
Targeted job listings: Ensure that job postings reach the most relevant and qualified candidates, improving the quality of applicants.
Employer branding: Customize the job board to reflect the company's brand image and culture, attracting candidates who align with the organization.
Resume access: Have convenient access to candidate resumes, simplifying the review and selection process.
Application management: Streamline the management of applications, allowing for efficient tracking, communication, and organization of applicant information.
Cost-effective solution: Promote job openings at a lower cost compared to traditional advertising methods, maximizing the return on investment.
Time savings: Optimize the recruitment workflow, saving valuable time by utilizing user-friendly interfaces and streamlined processes.
Job seeker benefits include:
Easy job search: Seamlessly navigate through job listings and find relevant positions with ease.
Access to various job opportunities: Explore a wide range of employment opportunities across different industries and sectors.
User-friendly interface: Benefit from an intuitive and easy-to-use interface for smooth job searching and application submission.
Advanced search options: Refine job searches based on specific criteria such as location, industry, or job type, facilitating targeted results.
Job alerts and notifications: Stay informed about new job openings and relevant updates, ensuring timely application submissions.
Resume submission: Conveniently upload and submit resumes directly through the job board, ensuring a professional and streamlined application process.
User profile creation: Create comprehensive profiles highlighting skills, experience, and qualifications, increasing visibility to potential employers.
Mobile accessibility: Access job board features on mobile devices, allowing for flexibility in job searching and application submission on the go.
Job board themes play an important role in enhancing the user experience of a job board while also promoting engagement. It creates a functional and intuitive system while also boasting strong visual appeal with minimal effort. Responsive design considerations make it usable by users across all internet-enabled devices. Notification and alert systems also help both recruiters and job seekers stay on top of opportunities.
Customizability makes it easy for anyone to change their job board theme to include additional features or information that might be crucial to the types of jobs that they plan to list. In short, there are many design considerations that can boost the functionality and usability of a job board platform and its success rate.
Top job board themes for success
There are a number of highly-rated job board themes available already, and here are some of our suggestions.
Epsy Jobs offers a comprehensive WordPress solution that caters to all your job board needs. With its compatibility with Elementor, you can easily customize your website's design. The theme provides pre-designed demos, seamless integration with WP Job Manager, advanced job filters, separate company pages, custom login, and registration forms, frontend job submission, a user-friendly admin interface, theme color customization, one-click import, and the flexibility of arranging the homepage with a simple drag-and-drop feature.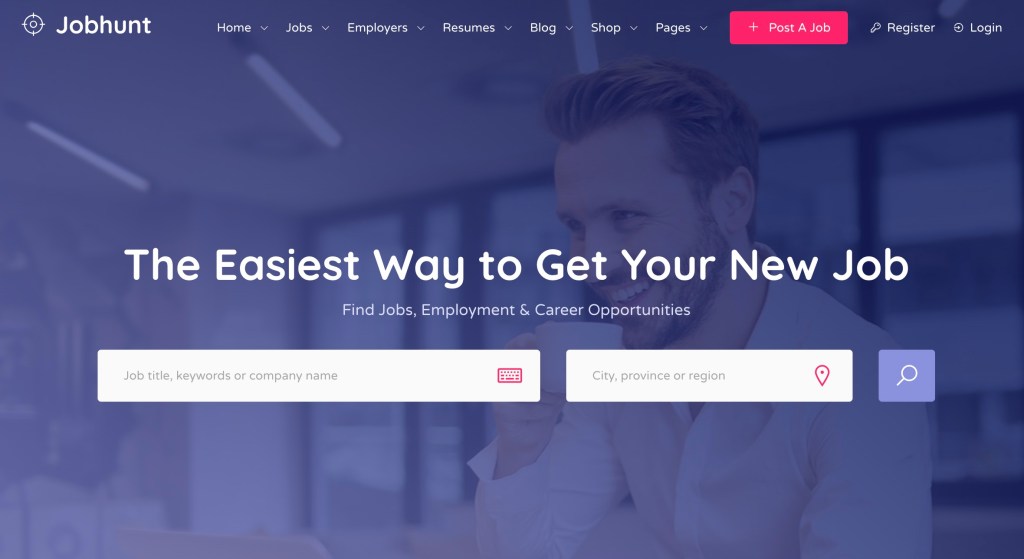 If you're looking for a fast and customizable WordPress theme, Jobhunt is a great option. Optimized for the WP Job Manager plugin, this theme offers multiple home page layouts, diverse options for headers and footers, various job listing and single job page styles, advanced filter and sorting options, dedicated pages for employers and candidates, structured data for job listings, and seamless compatibility with WooCommerce.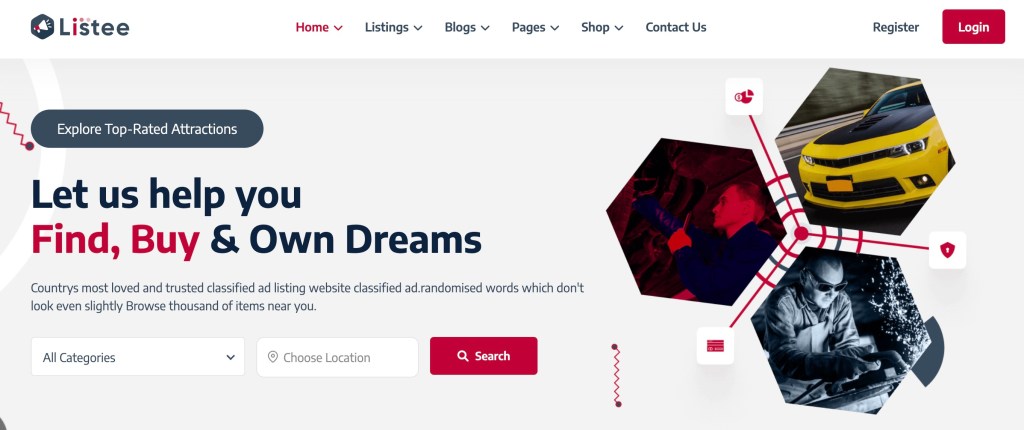 Listee is a versatile WordPress theme designed for classified ads and listing directories. With its user-friendly interface and high level of customization, Listee allows you to create a powerful job board website.
It offers features such as classified listings and bookings, customer and provider dashboards, a review system, favorites functionality, a chat system, categorized service listings, seamless integration with a blog, and the ability for providers to add services. Listee caters to a broad range of businesses and provides efficient, flexible, and affordable booking systems.

Prime Jobs is a premium WordPress theme specifically designed for WP Job Manager. It offers a user-friendly page layout builder, seamless integration with WooCommerce, a responsive design to ensure compatibility across devices, and support for WP Resume Manager. The theme is compatible with numerous plugins and provides a customizable sidebar manager and a visually appealing parallax slideshow.
It also includes a free Job Board Designer plugin, is retina-ready for high-pixel-density devices, and features an enhanced admin panel that allows for easy customization without the need for coding knowledge.
Jobseek is a specialized WordPress theme tailored for recruiting agencies and human resources. It serves as an ideal platform for offering career opportunities, freelance projects, and employment prospects. The theme provides extensive options for both recruiters and candidates, enabling the posting, editing, and management of job offers, company profiles, and resumes. With Jobseek, you can create a professional and efficient job board website to connect job seekers with exciting employment opportunities.
Customizing your job board theme
When creating a job board website on WordPress, customizing your job board theme is essential to tailor it to your specific needs and enhance the user experience. In this section, we will guide you through the process of customizing your job board theme to ensure it reflects your brand, offers intuitive navigation, and provides valuable features for both recruiters and job seekers.
Configuring basic settings: Start by configuring the basic settings of the theme, such as the site title, logo, color scheme, and typography. This will establish the foundation of your website's visual identity.
Customizing layouts and pages using pre-designed templates: Most job board themes come with pre-designed templates that you can customize to match your branding and layout preferences. Utilize these templates to create visually appealing and user-friendly pages, including the homepage, job listings, individual job pages, and user profiles.
Implementing additional features: Enhance the functionality of your job board by adding extra features. This can include integrating a resume manager, enabling paid job listings, setting up email notifications for job alerts and applications, or implementing more advanced search filters. These features improve the user experience and provide valuable tools for both recruiters and job seekers.
Testing: Before launching your customized job board, thoroughly test the website to ensure all features and functionalities are working seamlessly. Test the user registration and job submission processes, as well as the search and application functionalities. Address any issues or bugs that may arise during the testing phase.
Launch: Once you have thoroughly tested your customized job board and made any necessary adjustments, it's time to launch it and make it available to recruiters and job seekers.
To effectively customize your job board theme, follow these best practices:
Understand what recruiters and job seekers are looking for in a job board. Conduct research to gain insights into their preferences, pain points, and expectations. This knowledge will guide your customization efforts and ensure that your job board meets their needs effectively.
Optimize your job board for simplicity and usability. Keep the design clean and intuitive, ensuring that recruiters and job seekers can easily navigate and find the information they need. Avoid clutter and focus on providing a streamlined user experience.
Ensure your job board has a responsive design. With the increasing use of mobile devices, it's important to optimize your theme to provide a seamless experience across different screen sizes and devices.
Optimize job listings for both viewing and search engine optimization (SEO). Present key information clearly and concisely, making it easy for job seekers to understand the job requirements. Pay attention to SEO practices such as using relevant keywords, writing detailed meta descriptions, and employing SEO-friendly URL structures to increase the visibility of your job board on search engines.
Leverage the power of effective search functionality and filters. Implement robust search features that allow job seekers to refine their searches based on specific criteria, such as location, job type, or salary range. This enhances the user experience and helps job seekers find relevant opportunities more efficiently.
In addition, consider modifying colors, fonts, and layouts to create a visually appealing and engaging job board. Incorporate branding elements and maintain a consistent visual identity across your job board and related websites or services to strengthen brand recognition and credibility.
Integrating WP Job Manager
WP Job Manager is a lightweight job board plugin for WordPress, trusted by over 100,000 websites. Created by Automattic, the same team behind renowned plugins like Jetpack, WooCommerce, and WordPress.com, WP Job Manager is a highly credible and reliable solution. It seamlessly integrates with most WordPress themes, including the ones mentioned earlier, making it a popular choice for job board customization.
WP Job Manager is available as a free plugin, providing a solid foundation for your job board. However, it also offers a range of add-ons that can enhance the functionality of your website. The Add-On Bundle includes essential features such as:
Resume Manager, which enables the submission of resumes directly on your website.
WC Paid Listings, which integrates WP Job Manager with WooCommerce, allowing other employers to pay and post job listings on your site.
Job Alerts, which can be utilized to notify registered users about new vacancies, creating a dynamic and engaging job search experience.
WP Job Manager is designed with ease of use in mind. Its intuitive user interface empowers HR managers and recruitment agencies to efficiently manage job listings without requiring coding skills. Developers will appreciate its developer-friendly nature, with extendable templates that can be further customized according to specific requirements. Comprehensive documentation is also available to guide users through the process of leveraging these powerful features.
The plugin provides frontend forms that enable job submission and management directly from your website, enhancing the user experience and simplifying the application process.
Last but not least, WP Job Manager offers SEO benefits by implementing Google Job Schema, making your job board more visible and discoverable on search engines. By leveraging WP Job Manager's features and compatibility with popular job board themes and add-ons, you can streamline the process of creating and managing a powerful job board on your WordPress website.
Effective strategies for optimizing your job board website
There are a number of strategies and practices that can help a job board website attract more employers and job seekers.
Promote your job board through various online channels. This includes social media platforms, email marketing, and content marketing.
Analyze user behavior and how they use your website by looking at data. This can help you make data-driven decisions that can improve the job board's performance.
Enhance the visual appeal of your job board to make it more appealing and attractive to both job seekers and employers.
Ensure that the job board runs fast and loads quickly to create a better user experience.
Regularly updated job listings and remove expired ones to make it easier for job seekers to find relevant jobs.
Encourage engagement through job board features like user profiles, a user forum, and job alert notifications.
Take your job board to the next level
By selecting the right theme for your WordPress website, you can enhance the visual appeal, user-friendly navigation, and mobile responsiveness of your job board. In this article, we've introduced you to five job board themes for WordPress that are guaranteed to attract employers and job seekers alike. We've also shown you the fundamentals of how to set up and customize your job board.
Crucially, we've seen why you need to optimize your job board with plugins like WP Job Manager. With its seamless compatibility with popular WordPress themes, WP Job Manager offers a reliable and customizable job board platform for creating and managing job listings, particularly with its range of add-ons that provide features like resume submission, paid job listings, and job alerts.
Don't miss out on the opportunity to launch your own powerful job board website. Get started with WP Job Manager today and create a job board that will look great with any WordPress theme.