Are you looking for a budget-friendly job board theme for WordPress that's easy to use? They can seem hard to come by, but they do exist! We know how difficult and time-consuming it is to design an attractive job board for your vacancies. However, a good job board can be the difference between getting many applications or spending months trying to fill roles.
In this article, we'll showcase some of the best options, solutions, and tips to get everything up and running. Keep reading, and you'll be in a perfect position to start looking for candidates using a range of job board themes!
What to look for in a job board WordPress theme
Before you get started, it's important to know what to look for. We recommend breaking it down into the following categories:
Ease of use and setup
Customization and flexibility
Functionality and features
SEO and visibility
Cost and pricing options
User reviews and ratings
Ease of use and setup
Realistically, you want a job board theme that's easy to install, set up, and manage. If you run a recruitment agency, your technical knowledge likely won't extend to things like shortcodes of HTML. So, your theme should make life as simple as possible.
You'll be looking for a job board WordPress theme with a user-friendly interface, so you know exactly how to do everything in just a few clicks.
Utilizing a WordPress plugin like WP Job Manager is a great place to start, as you can seamlessly scroll through themes and add them to your job posting site. The job board plugin itself is just as easy to install; it can be up and running in a couple of minutes.
Customization and flexibility
Each industry or profession is different, so you will need a theme that matches your requirements. You should have one that presents multiple theme options, and layout choices that can let you add elements like custom fields or categories to job listings.
There are a whole bunch of add-ons provided by WP Job Manager WordPress plugin that let you customize everything to do with your themes, from job colors to changing categories and more.
Functionality and features
There should be a high degree of front-end functionality for employers and candidates with your chosen theme. This means the job board theme must contain features such as job listing management for employers, letting them track all of the listings and wade through applicants with ease.
At the same time, candidates should be able to search for online jobs or filter them based on keywords like salary, location, and experience. Again, the sheer range of add-ons on WP Job Manager makes it super easy to do things like this. You could even use the Auto Job Suggest feature that helps users find the best jobs based on what they're typing.
Being able to integrate third-party tools is also really handy. For instance, connecting your socials means you can share job applications far and wide. Integrating an applicant tracker system also helps you stay on top of applicants and learn more about who's applying for the jobs.
Most importantly, the theme must be mobile-friendly and responsive. Almost 70% of job applications are made from mobile devices. If the theme doesn't cater to this, you're missing out on lots of talented candidates!
SEO and visibility
About 70% of job applications also start on Google. This means your WordPress job board theme has to be search-engine-friendly. It must be easy for Google to find, so it ranks highly in relevant job searches and more people find your site.
Having Google Job Schema integration is super beneficial too. This is when Google displays job listings above the list of websites, further increasing visibility. The good news is that the WP Job Manager plugin offers this integration with all job board themes.
Cost and pricing options
Of course, you want a budget-friendly theme that fits your financial capabilities. The best ones will have different price options or tiers that let you pick and choose how much you pay and what features and level of support you wish to pay for.
With WP Job Manager, you have a base version that's completely free, but you can also pay for add-ons if you need them!
User reviews and ratings
Finally, you should consider user reviews and ratings when selecting a job board WordPress theme. Why? Because they tell you everything you need to know about the theme. You learn more about the user experience and what it's like on the back end of things. You see how easy it genuinely is to create job openings that stand out, etc.
Top 9 job board WordPress themes
Remember, you need a theme that ticks all of the boxes mentioned above. So, we're going to help you out by showcasing the best job board WordPress themes out there right now. Here's what we found:
#1 JobBox
JobBox is a neat and tidy WordPress theme offering a clear and professional template for your website. It ticks all the right boxes with great features and excellent support options.
Key Features
Quick and easy installation
Great job listing management
Header customization
Post customization
Footer customization
Lots of add-ons to benefit employers and candidates
SEO and mobile friendly
Pricing
Regular License w/6 months support: $39
Regular License w/12 months support: $49.13
Extended License w/6 months support: $1200
Extended License w/12 months support: $1425
Developer Support
Comes with documentation as a guide to help you install the theme and use all of its different functions
Has a support ticket system where you can chat with someone about more detailed problems
Reviews
Highly rated when it comes to design quality and customer support
Some users complain about a lack of necessary features for a professional job board with multiple employers
#2 JobFinder
JobFinder is a brilliant WordPress job board listings theme for WP Job Manager with an integrated page builder. It boasts some amazing features that make it super easy to use and customize.
Key Features
Very simple installation
No coding required
Complete customization of job listings
Shows job locations on a page
Integrates with WooCommerce plugin
Responsive and mobile-optimized layout
Support for popular WP Resume Manager addon to create a custom job board
SEO ready
Pricing
$49 for 1 year of plugin updates, 1-year support, and a 14-day money-back guarantee
Developer Support
1 year of dedicated support provided by WP Job Manager
Full documentation to help users get started
Tutorials to help with various features
Documentation for any add-ons also purchased
Reviews
Users really enjoy the customization and flexibility aspect of this theme
It looks very clean and professional and is super easy for anyone to use
Many users also enjoyed the sheer array of plugins and add-ons available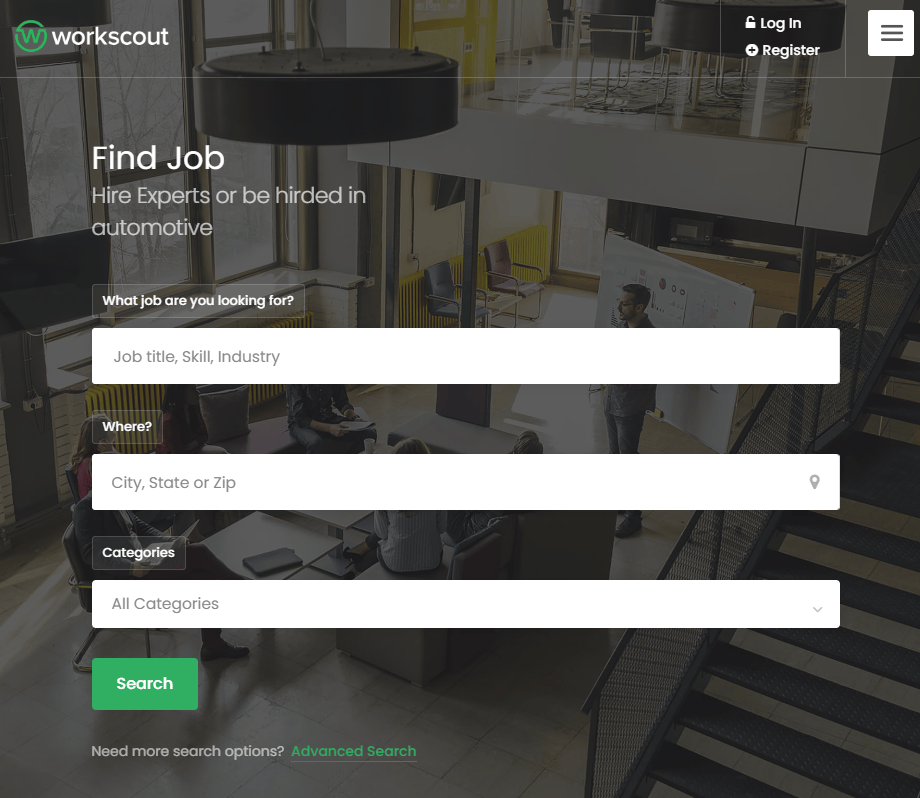 #3 WorkScout
WorkScout is an all-in-one WordPress solution that's perfect for recruiters or employment agencies of any size – and in any industry. It allows you to craft job listings websites in minutes.
Key Features
A user-friendly front-end user dashboard to manage jobs, resumes, and applications
Full-page job listings layout
Slidable filters for candidates to utilize
Can add company profiles and reviews to job listings
Advanced filters for added personalization when candidates are searching
Search suggestions
Location autocomplete feature
Works as an extension of WP Job Manager
Job alerts and bookmarks
Can configure your website for monetization
Pricing
$79 with all features and add-ons included
Developer Support
A full knowledge base of support with documentation detailing every single feature and how to use it
How-to guides and frequently asked questions
Extra support available via email
Reviews
This WordPress job board theme receives five stars from many users for customizability and customer support.
It's very easy to customize your site so it suits your specific job listing needs
#4 Jobify
Jobify is another job board WordPress theme that comes with full WP Job Manager integration. It lets you accomplish so much in such a small amount of time and is incredibly user-friendly.
Key Features
Instant installation without prior tech knowledge needed
Completely integrates with WP Job Manager
SEO-friendly
Mobile-friendly & responsive
Provides a listing maps view
Can add lots of different widgets to jobs and the home page
Great filter feature to help candidates find their dream jobs
Customization is available for everything – even the typography and the color of job listings
Can integrate business/company reviews on listings
Pricing
Regular License w/6 months support: $69
Regular License w/12 months support: $90.38
Developer Support
You have a dashboard when downloading the theme that provides detailed support whenever you need it
Documentation is also available with extensive guides
Reviews
Users rate this theme highly when it comes to customer support and design quality. It's a theme that people love the look of and any issues seem to be fixed quickly
There are mixed reviews when it comes to customization and flexibility, some users say it's easy to customize your site, while others complain that it's hard to evolve and change things
#5 InJob
InJob is a job listing website theme complete with lots of functions and features to help you create a truly customizable site.
Key Features
Fully responsive display
All plugins are completely free
Automatically updates
WooCommerce compatible
Fully optimized for SEO
A comprehensive admin panel to manage features, listings, and more
Customizable Google Maps features
Unlimited layout options
Loads of font icon packs
Integrates with social media
Pricing
$49 with all features and plugins
Developer Support
Step-by-step tutorial videos
Very fast support via live chat or email
Reviews
All reviews tend to attest that this WordPress job board theme is easy to use and customize to your desires
There are some reports of bug issues, but customer support typically helps fix them ASAP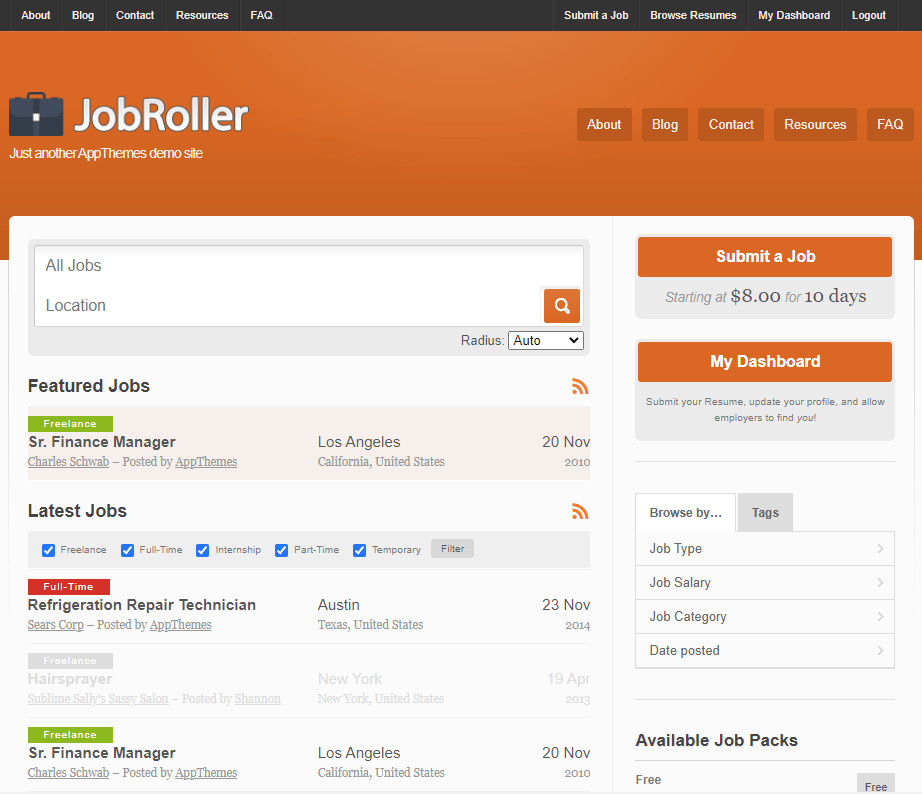 #6 JobRoller
JobRoller is one of the most popular job board themes for WordPress websites. This is largely down to how easy it is to set up and the powerful monetization tools provided for users.
Key Features
Support for job seekers and employers
Portals for both job seekers and employers
Custom job types can be created
A resume feature to let applicants upload and edit CVs
Enriched to work with Google Job Schema
Easy to set up transactions and track payments
Very easy admin panel
Can automatically add jobs from other big job sites like Indeed, etc…
SEO-friendly
Pricing
$69 for a lifetime license, 12 months of support/updates, and the JobRoller theme
$199 for all of the above plus extra themes and over 20 marketplace items
Developer Support
User forums
Frequently Asked Questions
Full documentation
Extra support available via email
Reviews
Extremely positive reviews with over 800 votes giving it a 4.5 out of 5 stars rating
Users thoroughly enjoy the simplicity of the site and how easy it is to create different job listings and manage everything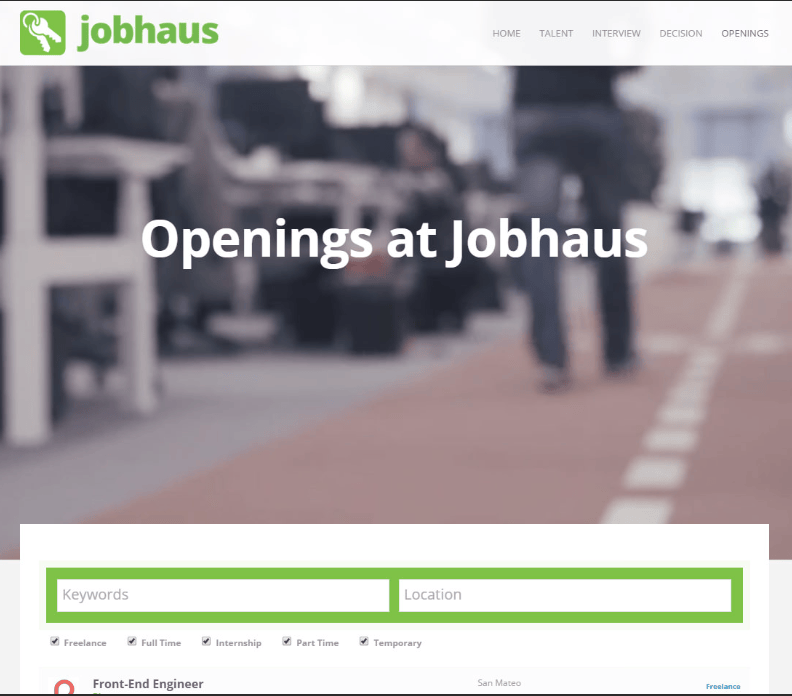 #7 JobHaus
JobHaus is a fantastic job listing theme built specifically for WP Job Manager. As such, it supports all of the WP Job Manager features by default!
Key Features
Drag and drop page layout builder with no coding experience needed to operate
Comes ready to use with WooCommerce plugins
A responsive layout that adapts to any screen size
Retina-ready display for high pixel density devices – like iPhones
Supports the WP Resume Manager add-on
Compatible with all WP Job Manager premium plugins
Can add your own widgets to areas on the theme
Can add and customize sidebars
Comes with Job Board Designer plugin for free
An enhanced admin panel lets you customize everything with ease
Pricing
$49 (with Job Board Designed plugin included as well)
Developer Support
Comes with a complete Troubleshooting Guide
Free support for any WP Job Manager Plugins used
Frequently Asked Questions
Full documentation with guides
Reviews
Lots of very positive reviews highlighting the usability of JobHaus. People love how easy it is to do everything and to completely customize a job listing website without any coding knowledge needed at all.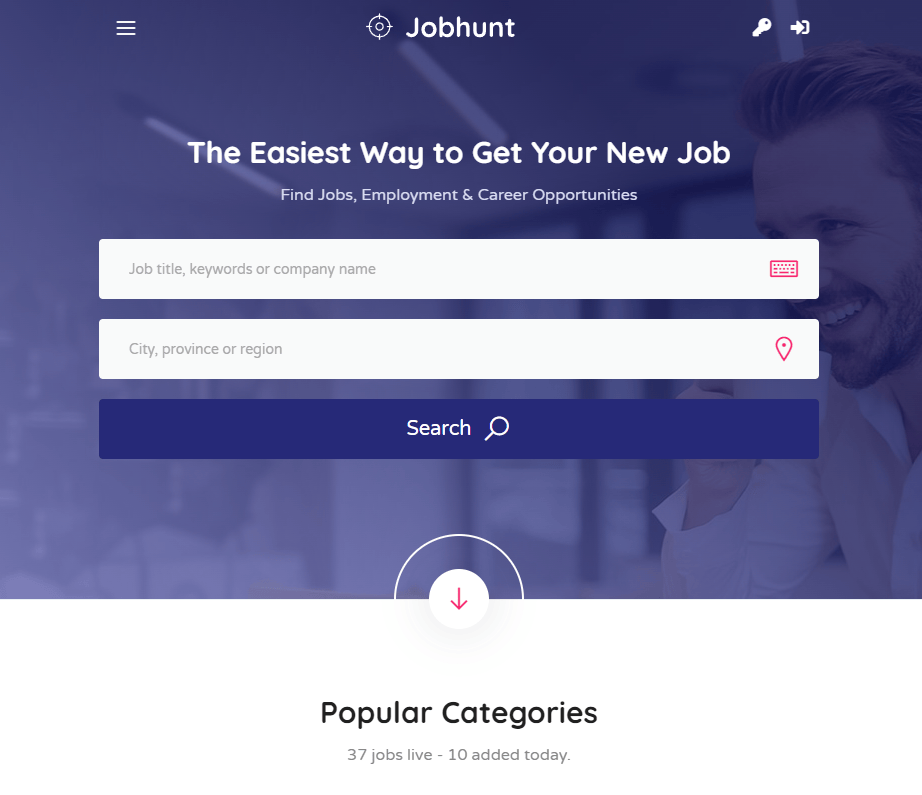 #8 JobHunt
JobHunt is a user-friendly job board WordPress theme that can be up and running in seconds with loads of customizable features.
Key Features
Built for WP Job Manager
Extremely fast and responsive
Can choose from five different home page layouts
Numerous customizations available on each home page
Multiple headers and footers are available
Flexible designs for job listings
Advanced filters
SEO-friendly
Mobile-ready
Pricing
$59 for 6 months of support
$76.63 for 12 months of support
Developer Support
User Guide with FAQs
Free Trial
Additional support offered via email
Reviews
The general consensus is that it's a fantastic theme for designing job boards and comes with really great and fast support when needed.
Users are very positive about the feature availability and customization aspects too.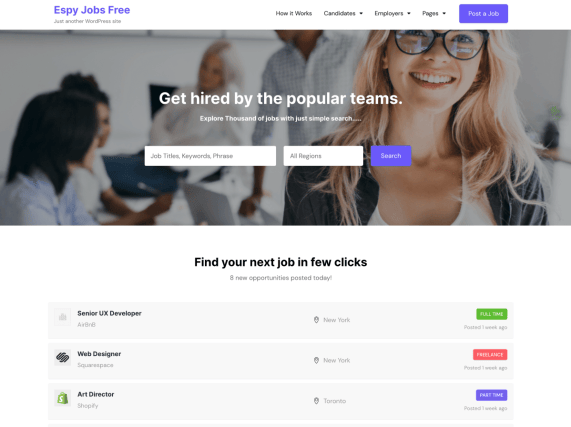 #9 Epsy Jobs
Epsy Jobs has everything you could need when launching a job portal website. It offers features for both job seekers and employers, so everyone's a winner!
Key Features
Lots of inner page templates
Very clean layout
Mobile-friendly
Optimized for SEO
Integrates perfectly with other WordPress add-ons
Powered by WP Job Manager
Pricing
Developer Support
Comes with a support forum
You can report major issues to the developer
Reviews
Users believe this is one of the best free WordPress themes for job listing sites out there. The range of features and integrations is brilliant and really helps you create a site that pleases job seekers and employers.
Using WP Job Manager to create your job board
WP Job Manager is the best and easiest way to create a job board website. In this section, we'll walk you through the steps needed to get everything up and running.
Installation & setup
Firstly, we need to install the WP Job Manager plugin. You can do this by heading to the Plugins section of your WordPress site and searching for it. Then, click install, followed by activate.
You'll be asked to run the setup wizard, which will take you to this page: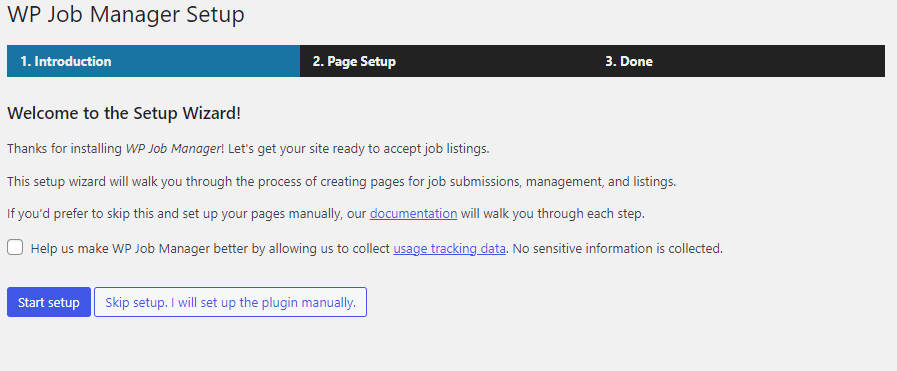 Click Start Setup and then choose the pages you wish to set up: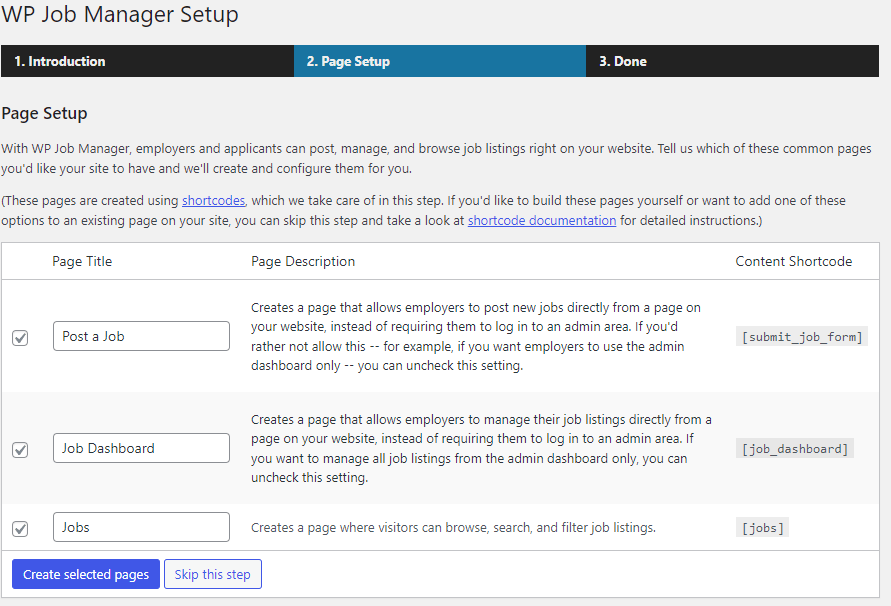 Create whatever pages you want and click the blue button to confirm. You're now ready to start using WP Job Manager.
Creating job listings
Creating job listings is incredibly easy once WP Job Manager is installed. Simply navigate to the Job Listings icon on your sidebar and select Add New.

You'll then see the page below, letting you create a job listing by giving it a title, writing a brief description, and adding the extra information in the boxes below. You can also see on the right-hand side the ability to add a company logo and select a specific job type.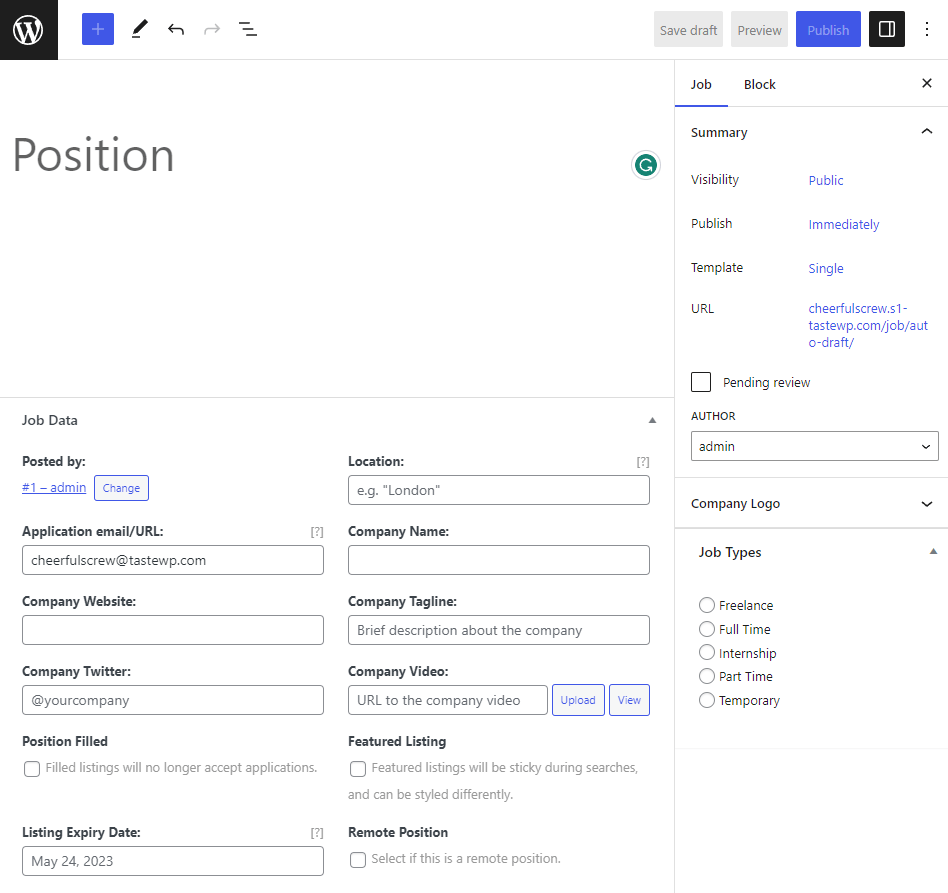 After filling all of the information in, you can select Preview to see how the job looks and make any tweaks if necessary. When you're 100% happy, click Publish and choose when the job goes live.
This is what people will see when they click on your website and view job listings: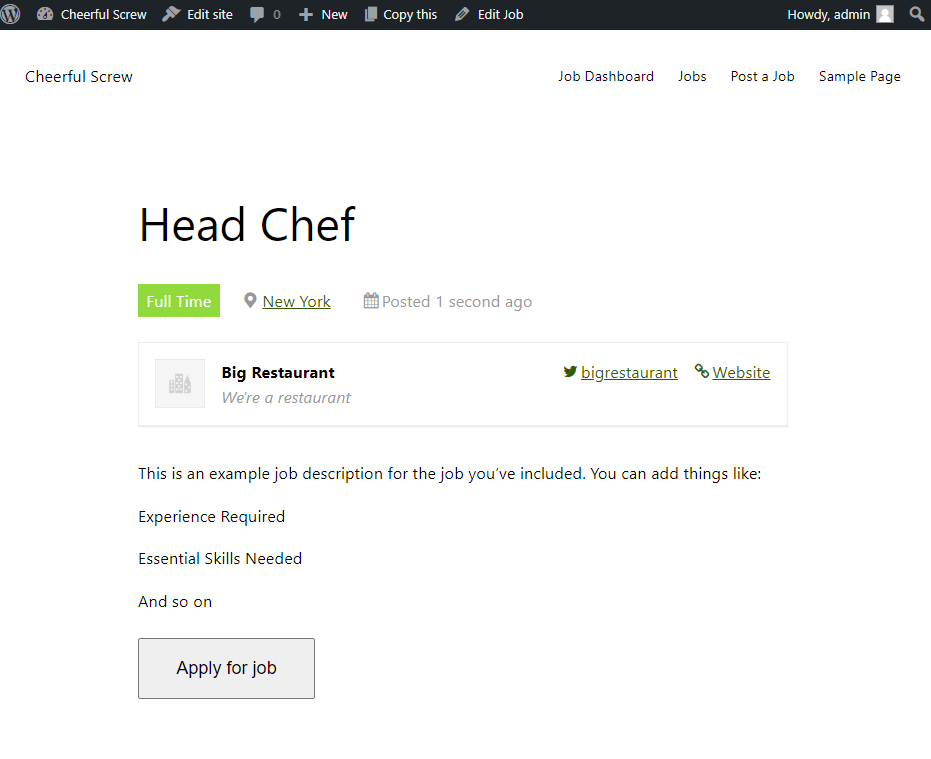 You can repeat this process for as many jobs as necessary to get all of your listings live!
Customizing the job board
Customizing the job board is equally straightforward. Again, head to the Job Listings tab, but this time click Settings. From here, click the Job Listings tab in the settings menu, and you can alter everything from the number of listings per page to enabling listing categories and so on.
Click Save Changes when you're happy.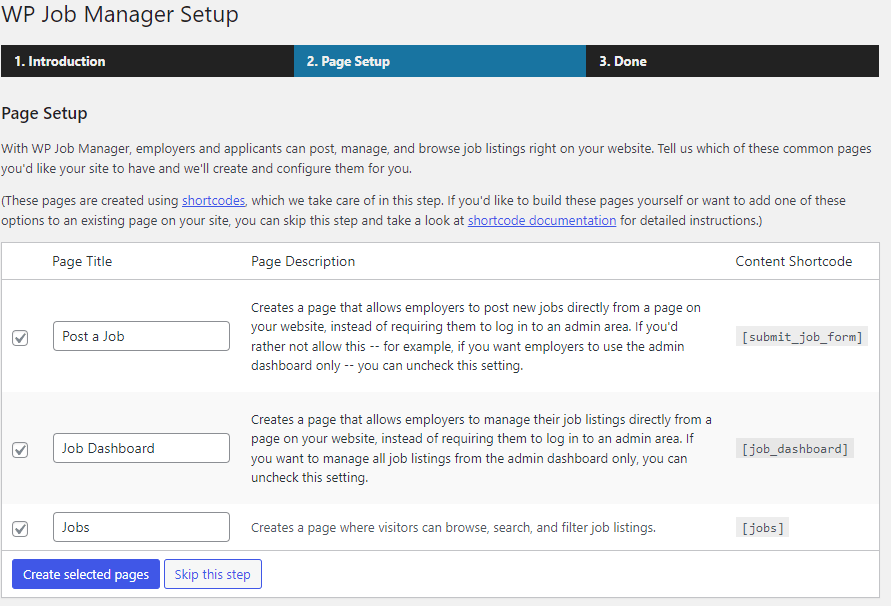 Front-end forms for employers
Creating front-end forms means employers can post from the front-end page, or admins can as well. The steps to set this up are as follows:
Go to the WP Job Manager plugin
Click "Add a job via the front end"
Fill in the details
Click Preview
Edit the listing if you want to make changes
Click Submit Listing when ready
It's a similar process to adding jobs yourself, but it allows employers to do it themselves.
Monetizing your website
You can monetize your job board site by adding paid listings. Whenever an employer wants to add a listing, they have to pay a fee for it. This is possible using the Simple Paid Listings Add-On.
Head to the Job Listings tab, click Add-Ons, and scroll until you find Simple Paid Listings.
It's $29 to install, and upon doing so your job listings come with the option to add costs to them. Choose the price, set the currency, and pick the payment gateway. It couldn't be easier to monetize your job listings!
Getting your jobs listed on Google Jobs
The great news is that it is possible to get your job listings on Google Jobs thanks to the Google Indexing API tool for WP Job Manager.
To begin, ensure you follow the steps outlined by Google to enable API indexing, There's a thorough guide on the Google Search Console website here that you should read.
Once you have a service account, head back to your WordPress site and click the Add-Ons feature in the Job Listings tab. Search for Google Indexing API for WP Job Manager. Once installed, you'll have a page like this: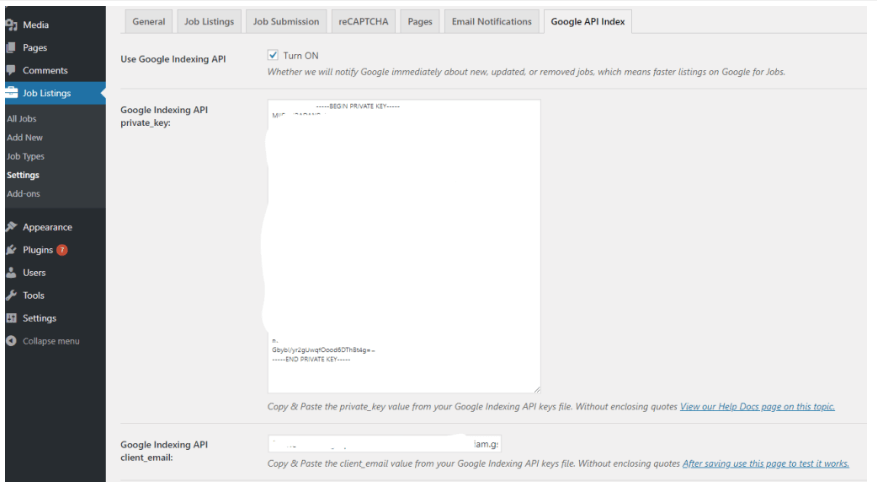 You should then copy and paste your Google Indexing API private_key (which you get after following the steps in the guide linked above) and put the email you used into the box.
Now, your job listing is optimized for Google Jobs and will appear high up, increasing visibility.
Overall, it's very easy to set up and use WP Job Manager. Anyone can do it in a matter of minutes without needing any prior experience. It's possible to create stunning job board websites for yourself or for clients if you're a web designer.
Create your job board using WordPress themes and WP Job Manager
Don't forget the importance of selecting a good job board WordPress theme for your site. Once everything is up and running using WP Job Manager, you can install a theme that's easy to use, highly customizable, and comes with lots of key features to get your listings out there and seen by applicants.
We showed you the top 9 job board WordPress themes, with each one having unique features that may make it ideal for you. It's a good idea to check them all out and play around with the demos to see which one would be the best fit for your job listing website.
When it comes to creating your site, WP Job Manager is the best option. It's incredibly user-friendly, and the setup wizard will have things up and running in no time. You can effortlessly add new listings, customize job boards, and create frontend forms for employers. It also boasts lots of add-ons to improve the searchability of your site and make it easier for candidates and employers to use.
If you're keen to create a winning job listing site today, download WP Job Manager for free!