Are you searching for the best WordPress plugin for a job portal on your website? You've come to the right place!
Whether you're a professional recruiter looking to move away from platforms like LinkedIn or you want to establish your own job listings for your business, having a job board on your branded website gives you more control over the application and recruitment process. By taking ownership of your job board website, you can enjoy numerous benefits, such as deciding which data to collect and keeping applicants engaged throughout the process.
However, with a wide range of job portal-building tools available, it can be challenging to know where to begin. In this article, we will provide a clear overview of the importance of owning a job board and present our top 10 job listing plugins to help you create one on your WordPress site.
Why create a job board on your WordPress site?
It can be tempting to simply post your job listings on traditional job board sites like LinkedIn or Monster. However, you may run into several pitfalls when doing so, such as:
Limited category filtering options, making it difficult for your job posts to be easily found.
Imposed templates with limited customization functionalities, restricting your ability to showcase your brand.
Disengagement of applicants throughout the application process.
Non-user-friendly application forms, varying depending on the portal, which can hinder both applicants and recruiters.
Choosing between multiple job board websites, such as LinkedIn, Indeed, and Monster, and determining if posting on all simultaneously is duplicating efforts.

These limitations make the prospect of setting up your own job portal website, where you have more control over the design and functionality, more appealing among recruiters and employers. And since WordPress is the most popular Content Management System (CMS) of all time, with 43% of all websites (approximately 810 million websites) being built on WordPress, it will naturally be on your shortlist.
Of course, popularity alone means little, so let's look at the more concrete reasons why WordPress could be the right fit for your online job portal.
The benefits of a WordPress job portal
Increasing traffic: Integrating a job board into your WordPress website can drive more visitors to your site. Job listings can be indexed by search engines, making it more likely for job seekers to discover and explore the available opportunities. This not only boosts organic traffic but also enhances potential engagement with your other content and products.
Customization and easy management: WordPress offers extensive customization options, allowing you to tailor the job board to match your branding and WordPress theme. Dedicated job portal plugins for WordPress enable you to manage job postings, job type categories, and user profiles, ensuring a high-quality applicant experience on your fully branded site.
Cost-effectiveness: Using your WordPress website as a job board site offers cost-effectiveness compared to traditional recruitment or other job portals. While there may be some costs involved, such as hosting fees, there are typically no job listing fees or job sponsoring fees. By using your own job portal, you can avoid the fees associated with using recruitment agencies, potentially saving significant costs in the hiring process.
Monetization control: With your own job board, you have full control over your monetization strategy. You can open your job listing page to other businesses for a fee or offer ad placements, allowing you to generate revenue directly from your job board.
Streamlining the recruitment process: Using your WordPress site for job submissions enables efficient screening and management of applications. You can set specific requirements for resume submissions, making it easier to manage and track candidate information.
Access to analytics and performance insights: WordPress sites come with a variety of analytics tools and plugins to track the performance of your job portal. This allows you to gain insights into applicant engagement, job views, and other metrics, enabling continuous improvements and optimization.
Getting started with your WP job portal
Ready to create your WordPress job portal? Here are the key steps to bring it to life:
Create a WordPress website
If you don't have a WordPress site yet, you'll need to set it up. This involves:
Choosing a domain name (e.g., www.yourcompanyname.com).
Getting web hosting to store your website's files and make them accessible online.
Installing WordPress on your web hosting account. Many providers offer easy one-click installations, or you can follow tutorials on wordpress.org.
Selecting a job board plugin
Choose a suitable WordPress theme for your help and a job portal plugin, which together will give you all the layout options and functionality you need to create and manage job listings. Job board plugins like WP Job Manager provide functionalities for managing job listings, creating filterable jobs, handling application forms, and sorting candidate profiles. Job board themes, on the other hand, offer pre-designed layouts tailored for job portals.
Enhancing your setup with add-ons and widgets:
Depending on your business needs, consider additional tools to enhance your job portal:
Email marketing tools like Mailchimp for building lists and sending newsletters or automatic email alerts.
Social media integration to post jobs across different channels and display RSS feeds.
Payment gateways (e.g., PayPal, Stripe, or WooCommerce) for secure online transactions.
The 10 best WordPress job board plugins
We've compiled a list of the top 10 WordPress job board plugins based on their functionalities, addon integrations, ease of installation, user-friendliness, performance, and user reviews. Below, we'll provide a brief description of each plugin to help you choose the one that best meets your needs.
1. WP Job Manager
WP Job Manager is a powerful, open-source job board plugin for WordPress. Developed by Automattic, the company behind WordPress, WooCommerce, and Jetpack, to name just a few, WP Job Manager is a reliable and robust solution for creating a job portal on your WordPress site.
The plugin features an intuitive interface that allows you to manage job listings without any programming or coding knowledge. It is user-friendly and uses the same interface as the WordPress backend, and is compatible with page builders like Elementor for easy customization.
For developers, WP Job Manager offers flexibility with customization options such as post types, endpoints, and extendable templates, allowing you to tailor the functionalities and appearance of your job board.
WP Job Manager's key features include:
Search and filter options for job listings based on various criteria, such as job type, location, new jobs, and many more.
Easy frontend job listing submissions.
Google job schema integration for improved visibility on Search Engine Page Results (SERPs).
Individual job listing pages with individual URLs for shareability.
A dedicated management dashboard for job submissions, fully accessible without logging into the admin area for efficient management.
Customizable RSS feeds, enabling users to subscribe to job alerts, or for display elsewhere on site.
WP Job Manager offers a free version and a range of premium add-ons for advanced functionality. The pricing structure is budget-friendly, starting from $29/year for individual addons or $159/year for the complete addon bundle. You can explore the plugin's features and interface with the free demo.
2. Posts Table Pro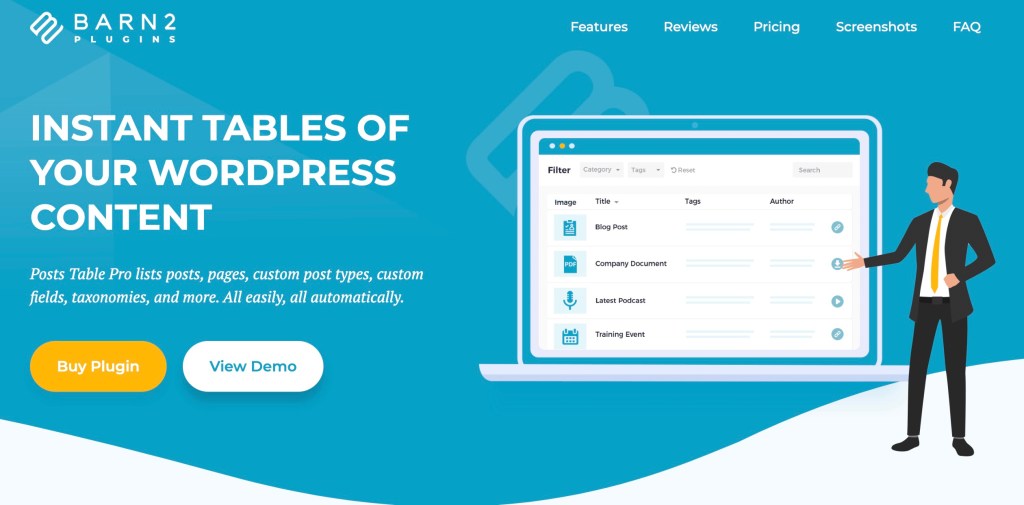 Posts Table Pro is a versatile WordPress plugin that allows you to create dynamic and filterable tables of your content, including job listings. While not specifically designed as a job listing plugin, it provides the flexibility to display job listings in a sortable and searchable format, making it ideal for a user-friendly job portal site.

Here are the key things you need to know about Posts Table Pro if you're considering it for your job portal website:
This plugin lets you build powerful tables to showcase your job post in a structured and organized manner, with the possibility to fully customize the appearance of the table.
The instant search and filter options allow users to quickly find specific listings and refine their search based on different criteria.
The plugin comes with full tutorial documentation to teach you how to set it up and customize it for your needs.
Posts Table Pro is optimized for a fast and seamless user experience, delivering excellent performance on search results and loading times.
This smart plugin lets you embed multimedia content directly within the table cells. This can be a handy feature for visual representations within job listings.
Posts Table Pro is available for $79/year, offering a cost-effective solution for the creation of dynamic and versatile tables in your WordPress site.
3. WP Job Hunter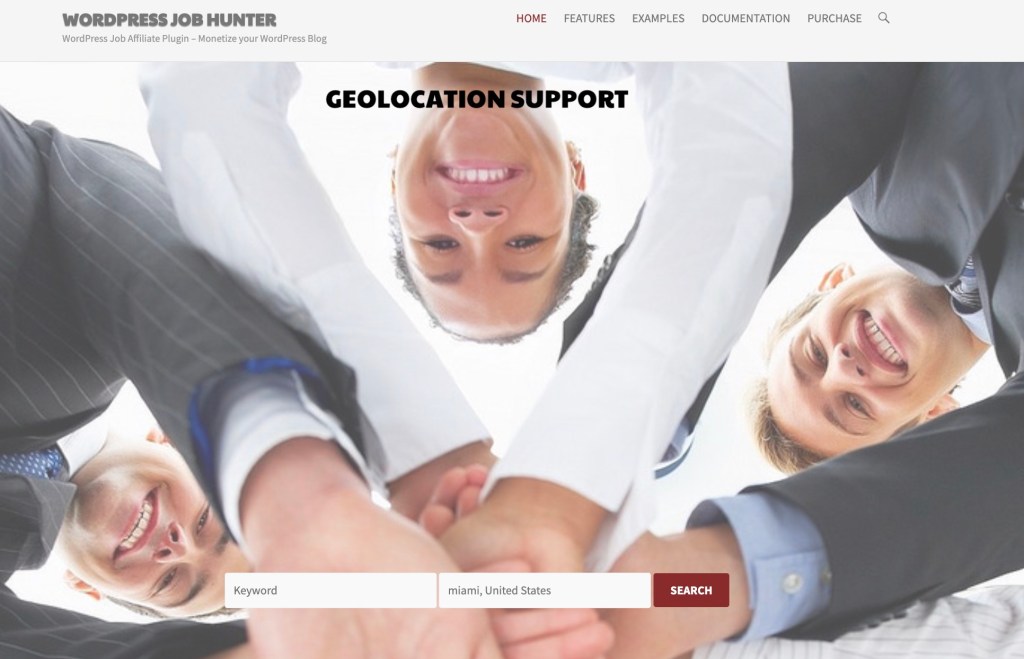 WP Job Hunter is designed to create a job board widget with a focus on monetizing your blog through integration with major job portals like Indeed, SimplyHired, and CareerJet. The plugin leverages job sites and allows you to display a range of job listings on your blog, filtered by location, country, or keywords.
Some of the key features of WP Job Hunter are:
It integrates with reputable job board sites and lets you display job listings from these platforms on your site.
The plugin has an automatic post function, which streamlines the process of adding and updating job listings.
WP Job Hunter is built for cross-browser compatibility, and responsive design, making it easy to navigate regardless of your browser or device choice.
It includes a widget that allows you to earn affiliate commissions or advertising revenue.
WP Job Hunter comes with social media share buttons, increasing the visibility and reach of your job board.
Users can also search for jobs via an API AJAX search function.
Available on Codecanyon for a regular license fee of $30, WP Job Hunter is an affordable option for creating a job-related affiliate website.
4. Simple Job Board by Press Tigers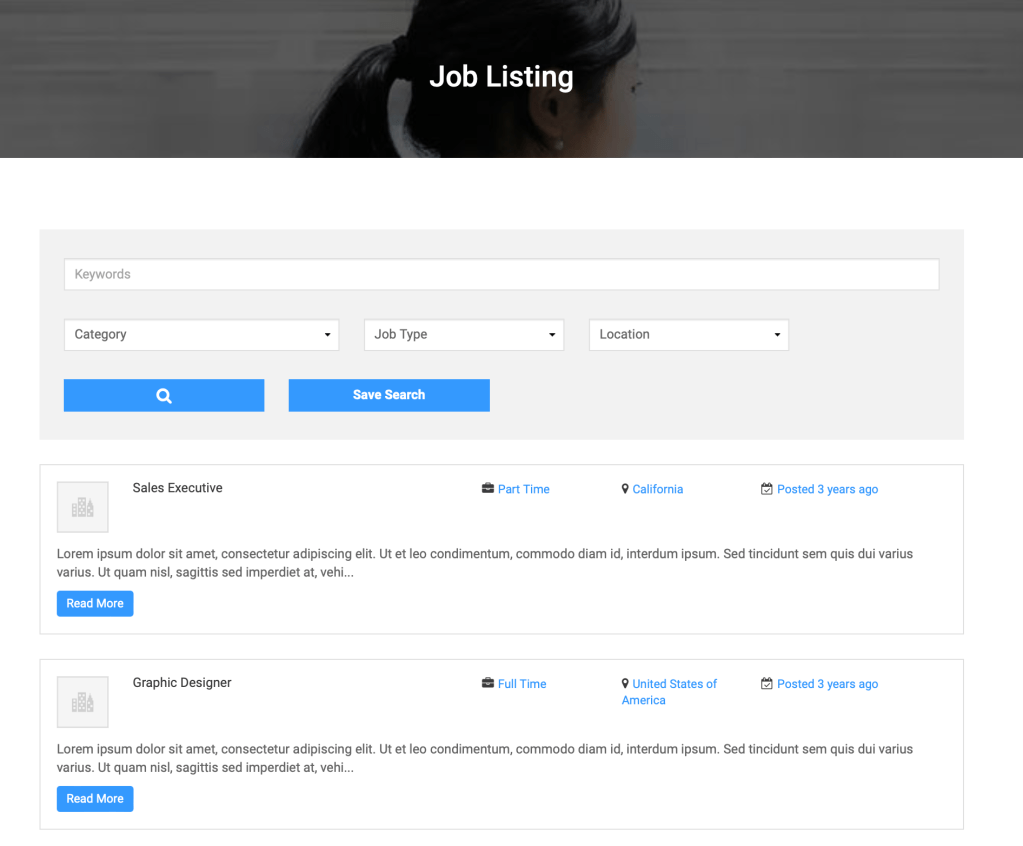 Simple Job Board is a lightweight and user-friendly plugin that provides job board functions for individuals and businesses. It offers multilingual capabilities, allowing you to create and manage job listings in multiple languages.
Some noteworthy features of Simple Job Board include:
A user-friendly interface that makes it easy to add, categorize, and manage all job postings.
You can add comprehensive information, including job type, job location, and customized application forms.
Simple Job Board uses shortcodes for displaying job listings on any page of your website and providing targeted information to your visitors.
The built-in application tracking features give you a full overview of managing application progress.
Users can attach documents, including application forms, job descriptions, and additional resources, to the listing.
Simple Job Board comes with a basic free version. But there are up to 48 additional premium addons available to extend its functionalities. So, if you are looking for a comprehensive suite of features, there may be more cost-effective options and bundles with other plugins.
5. WPJobBoard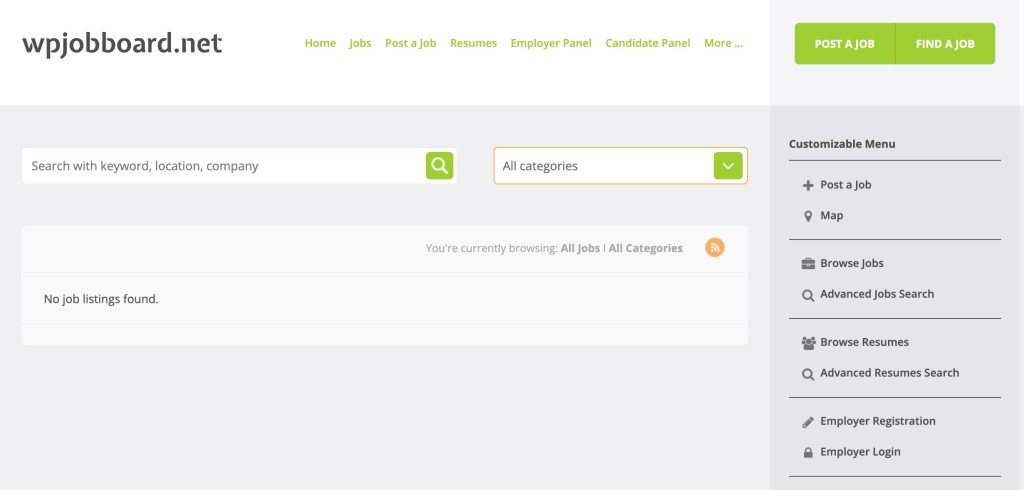 WPJobBoard is a comprehensive job board software specifically designed for WordPress. It caters to a wide range of users, ranging from entrepreneurs, web developers, and recruitment agencies who want to incorporate a job portal into their existing site or create a standalone job board.
Here are the key features of WPJobBoard:
It offers a seamless, one-click installation process, suitable for even WordPress beginners.
It integrates with any WordPress theme for full design consistency.
It also integrates with many WordPress third-party favorites, including Paypal and Stripe, for easy payment processing.
The software comes with SEO optimization and social media features for maximum reach and visibility for your job listings.
There are many customization options, including a drag-and-drop editor and dynamic shortcodes, which are useful when using a template with a page builder such as Elementor or Beaver Builder.
WPJobBoard has an Applicant Tracking System (ATS) for managing and reviewing applications and streamlining the recruitment process. There is also a built-in resume database to manage submitted resumes.
The employer portal lets the user create and manage their job listings independently.
WPJobBoards offers monetization features such as premium listings.
WPJobBoard pricing starts from $97/year for a personal license, suitable for individuals and SMEs. Business and developer licenses are pricier and provide additional features and support.
6. Job Board Manager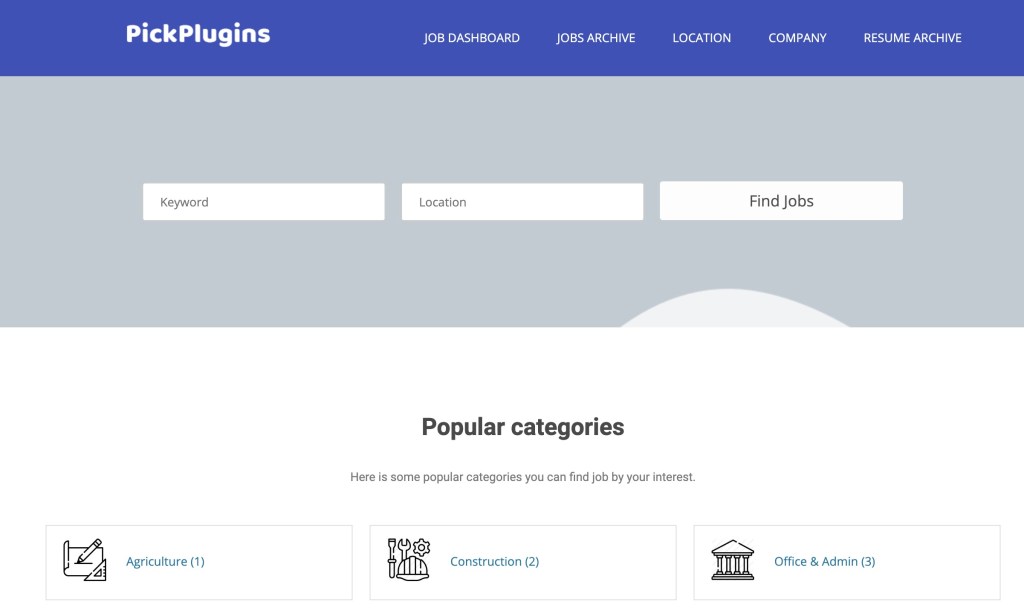 Job Board Manager is a job portal plugin on WordPress that provides a versatile and efficient job listing management solution. It simplifies the process of creating and managing a job board while retaining essential features.
Job Board Manager is frequently praised for:
Its advanced job archives function, allowing you to display a list of jobs on any page using a shortcode.
Its user-friendly dashboard, which can be easily customized using different filters and action hooks to your specific requirements. This creates an intuitive experience for job seekers and employers.
Customizable job submission form and job edit form for easy job submission and listings.
A grid view for displaying job categories for a more visually appealing job board.
Streamlined job applications and communication process. This allows applicants to select how they wish to apply and employers to review applications and communicate with applicants.
Its pre-built email notifications, including 11 pre-built templates that can be customized to meet your brand and messaging needs.
Automated job expiry to remove expired jobs from the job board.
The free version of Job Board Manager already comes with plenty of features. But for $149/year, users can benefit from advanced functions and priority support.
7. JS Jobs Pro

JS Jobs Pro is a feature-rich job portal plugin for WordPress, offering extensive functionality for both employers and job seekers. It enhances the application process, job submission, and benefits for all users.
JS Jobs Pro has made a name for itself thanks to:
Its dashboard for employers and job seekers, allowing both to manage their profiles, applications, and other relevant activities. Employers also have a comprehensive report regarding job listings, application tracking, and activity log.
Built-in job search function with filters to search jobs by type, location, and category.
Its email registration form, allowing applicants to subscribe to new job alerts and other notifications based on their criteria.
Its messaging system for direct communication between recruiters and candidates. There's also an email feature for personalized branded emails.
Its location map using coordinates and Google Maps.
Its customization features through unlimited color options and other custom fields.
JS Jobs Pro comes in 3 different price subscriptions, ranging from a basic plan starting from $99 for 3 months to a professional plan starting from $199/year.
8. WP Job Openings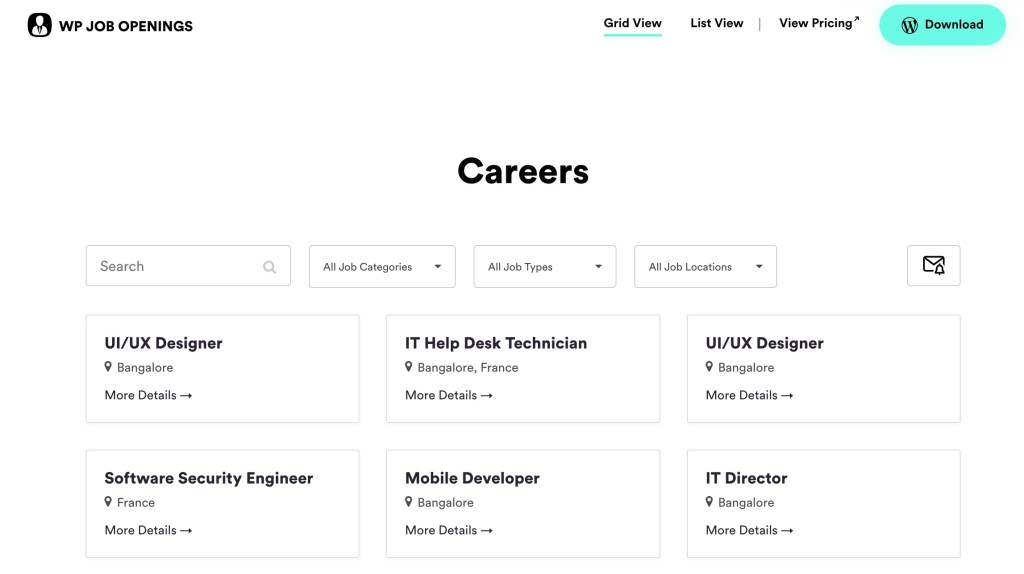 WP Job Openings is a comprehensive job portal plugin designed to simplify the recruitment process for organizations seeking to attract, manage, and hire talent effectively.
Key features of WP Job Openings include:
Prebuilt layouts and templates for creating an engaging career page and showcasing job listings.
An ATS for tracking, rating, and filtering applications, along with an activity tracker.
Customizable automated email notifications for different stages of the recruitment process.
Custom application forms to meet specific requirements.
Multilingual plugin integration and user-friendly job filtering options for job seekers.
Technical templates and documentation for developers.
WP Job Openings is available for free on the WordPress plugin directory, with premium add-ons starting at $69/year.
9. ApplyOnline
ApplyOnline is an application management plugin that is designed to facilitate the creation and management of application forms. The plugin is not just designed for job boards, but also online admissions, course registrations, etc.
Here's a brief overview of its main features:
A user-friendly drag-and-drop page builder with no coding knowledge required.
Different application purposes linked to shortcodes for display on pages or posts.
Application management function with an AOL manager role for dedicated personnel to manage forms through the WordPress admin panel.
Automatic email notifications sent to all applicants.
ApplyOnline offers a free version, with premium addons available starting from $39/year.
10. Job Board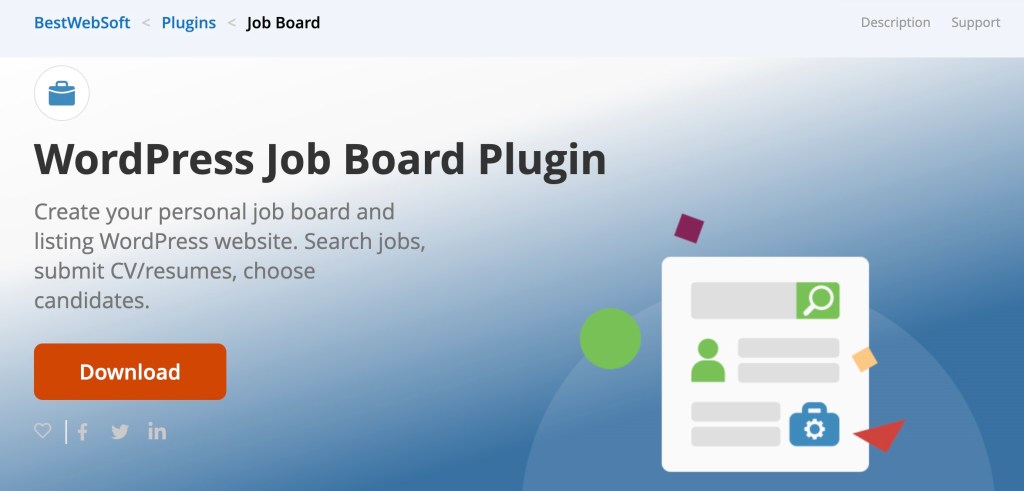 Job Board is designed to simplify the process of creating a personal job website. It allows you to add, manage, and categorize job posts, and to facilitate interactions between job seekers and employers. It offers a variety of features tailored towards efficient job listing and resume submission.
Some of its notable functionalities are:
Easy job post addition and management, with added categories and set parameters, such as job type, expert date, location, etc. These categories and other parameters are also used as search and filter options.
Job Board uses shortcodes for flexible placements, such as inserting the job board or registration form into any part of the website.
The plugin allows users to customize additional information for each job post, providing comprehensive job descriptions and attracting the right candidates.
Applicants can also customize their accounts by including resumes, job preferences, and so on.
Developers can unlock advanced customization features to enhance the appearance or functionality of the job board.
Job Board is fully free with no added cost.
What's the best job portal plugin for your WordPress website?
When it comes to selecting a job portal plugin or theme for your WordPress site, WP Job Manager stands out as a top choice. With its rich feature set, WP Job Manager provides a comprehensive solution for managing a job board on WordPress. It offers search and filter options, Google job schema integration, frontend forms for employers, customizable RSS feeds, and a familiar user interface, among other features.
WP Job Manager is also highly cost-effective. The core plugin is available for free, and the paid add-ons start at just $29 per year. This makes it an ideal choice for those on a budget, especially when compared to other plugins with higher starting prices or more expensive add-ons for similar functionality.
WP Job Manager's widespread adoption on over 100,000+ websites speaks to its quality and reliability. So, if you're ready to move on from traditional job listing platforms, and create your own supercharged job portal website on WordPress that attracts the right candidates, get started with WP Job Manager!