Are you interested in turning your job board into a money-making venture? Job boards offer significant revenue potential, but they come with their own set of hurdles. From drawing in employers and job seekers to navigating pricing structures and subscription plans, the path to success can be complex.
In this article, we'll walk you through the diverse challenges of monetizing a job board in 2023. Whether you're new to the job board scene or looking to enhance your existing platform, we've got you covered.
By the end of this read, you'll have a comprehensive understanding of the revenue-generating methods available and the tools that can streamline the process.
Let's dive into the world of job board monetization!
Exploring the business model of job boards
At the heart of the modern job market lies a powerful tool: the job board. Essentially, job boards are websites that allow employers to advertise their job vacancies. These platforms serve as intermediaries, hosting a plethora of job listings that cater to diverse industries and skill sets.
They connect job seekers on the hunt for their dream roles with employers seeking the right candidates to join their teams.
With the job board software market projected to reach a staggering USD 2.48 Billion by 2030, growing at a remarkable CAGR of 10.8%, their significance is undeniable.
Job board platforms are able to generate revenue through a range of strategies, and below are some of the most widely utilized:
Paid job listings: A core revenue stream for job boards is charging employers a fee for each job listing they post on the platform. Employers gain visibility for their vacancies, while the job board generates income to facilitate this exposure.
Subscription packages for employers: Job boards can offer subscription plans to employers, allowing them to post a set number of job openings per month. This approach offers convenience to employers with frequent hiring needs and ensures a steady stream of income for the job board.
Premium job postings: Providing premium or featured job listings gives employers the opportunity to highlight their vacancies. These listings are often displayed prominently on the job board's homepage or search results, attracting more attention and garnering higher fees for enhanced visibility.
Advertising: Job boards can monetize their platform by displaying targeted advertisements from relevant businesses and services. These ads can be strategically placed within the website's interface to capture the attention of both job seekers and employers.
Sponsored features or blog articles: Collaborating with employers to create sponsored content, such as featured articles or blog posts, can be a lucrative strategy. This not only helps employers promote their company culture and expertise but also brings in revenue for the job board.
Affiliate programs: By partnering with related services, like resume writing, interview coaching, or online courses, job boards can earn a commission for every user who accesses these services through their platform. This mutually beneficial approach expands the job board's offerings and revenue streams.

Knowing about these revenue models is one thing, but if you want to implement them successfully on your job board website, you need to be at the forefront of the latest technological developments.
Such developments include using data analytics to gain market insights and using algorithms to create more accurate job matching. For WordPress users, it also means utilizing extensions that enhance the functionality and visibility of your job board website.

This is where WP Job Manager comes in. This job board plugin can transform your website into a user-friendly, and fully-fledged job board platform that both employers and job seekers enjoy using.
The WP Job Manager plugin is packed with features that make your job board website not only easier to use but also increase its visibility. With help from the WP Job Manager Plugin, your job board will benefit from easy-to-use job listing management, advanced search and filter options, RSS feeds, and more.
One of the biggest advantages of using WP Job Manager is its use of Google job schema, which automatically makes your job listings compatible with the requirements of Google job search. This means your job listings will enjoy increased visibility on search and, in turn, drive more traffic to your job board.
Overcoming challenges in job board monetization
Monetizing a job board isn't without its hurdles. Here are some of the main challenges that can arise when attempting to make money from your job board, along with some of the practical actions you can take to overcome them:
Competing with established job boards
It's hard to compete if you offer the exact experience as heavy-hitters in the job board world such as Monster and Indeed. That's why your best strategy here is to differentiate, not imitate. Develop and promote your Unique Selling Proposition (USP) – whether it's specialized industry insights, personalized job recommendations, or exceptional customer service, make your strengths known.
Take time to understand what established job boards are excelling at, and identify areas where you can set yourself apart. A key strategy is to tap into a specific niche or industry. Look at success stories like HealthcareJobsite or Berlin Startup Jobs; they cater to unique sectors and have thrived by offering tailored solutions.

A great way to stand out is to choose a niche theme when creating your job site. WP Job Manager provides a range of niche themes, designed for specific use cases such as pet sitting or babysitting, which can instantly set you apart and attract a dedicated audience, and help you showcase your USP.
Attracting employers and job seekers to use your job board
The success of your job board hinges on attracting a steady flow of employers and job seekers to your website. This ensures a steady stream of job listings on your website and, therefore, revenue potential. Here are a few ways to build a steady flow of traffic:
Maintaining a solid user experience for both
Job seekers appreciate ease of use, intuitive navigation, and clear job listings. Employers, on the other hand, desire a seamless process for posting openings and managing applications.
Striking this balance ensures user satisfaction on all fronts, ultimately leading to repeat visits and positive referrals. We've already seen how WP Job Manager can be used to create a solid user experience, and we'll soon discuss how to turn this experience into opportunities for revenue.
Pricing strategies and trial periods
Employers often evaluate the value of a job board by its cost-effectiveness. Employing well-defined pricing strategies, such as competitive rates or tiered membership plans, can entice employers to choose your platform. Additionally, offering trial periods allows them to experience the benefits firsthand, increasing the likelihood of continued engagement.
Building SEO
A strong Search Engine Optimization (SEO) strategy propels your job board to the forefront of search results. This heightened visibility amplifies your reach to potential job seekers and employers alike. Optimizing your content, incorporating relevant keywords, and ensuring your platform is mobile-friendly can significantly boost your organic traffic.
WP Job Manager not only provides your users with a premium experience but can also significantly increase the visibility of your job board. Its integrated Google job posting schema capabilities are invaluable when trying to get your job board noticed.
Unlocking potential revenue streams for job boards
We've looked at a few ways that job boards can earn revenue and how to overcome common challenges that job board websites face. Now, let's look at how to get started with them. From charging recruiters for posting jobs to introducing premium features that incur an extra charge, here are a few options available to help you start earning from your job board.
Charging for job listings
Charging for job listings is the simplest and most effective way to start making money from your website. Did you know that job listings account for 60% of the recruitment industry's revenue? Here are some of the ways you can make money using this strategy:
Pay-per-click listings.
Pay-per-application.
Tiered pricing, i.e. posting premium listings.
Subscription bundles for high-volume recruiters.
Putting your new payment option into practice is easy with help from WP Job Manager add-ons, such as WC Paid Listings which are powered by WooCommerce. This add-on lets you sell bundled job packages through WooCommerce, including multiple listings, featured listings, and listings with predetermined expiration dates.
The Simple Paid Listings plugin is a must if you want to generate instant revenue from your job board. Using the simple paid listings add-on means that customers pay you via Stripe or PayPal before their listing is published.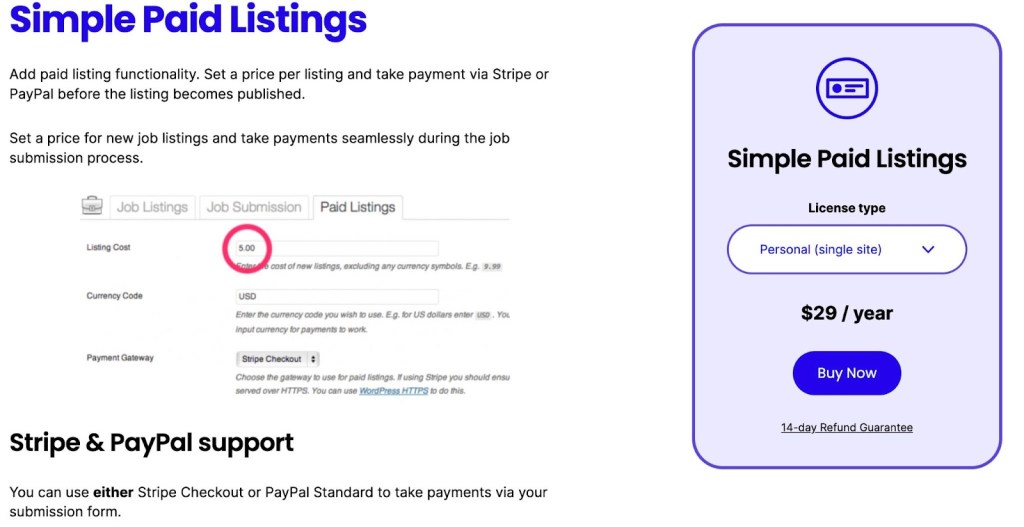 Monetizing premium features
Offering premium features like advanced search filters, priority listings, or exclusive job access adds value for users while generating supplementary income. These features enhance user experience and can significantly boost revenue. If you decide to offer premium features for an extra charge, you must ensure that the features deliver genuine value to your customers and truly enhance their experience when using your job board.

WP Job Manager's WC Paid Listings can help here too, enabling users to promote their jobs in featured listings for added visibility and engagement.
Subscriptions
A subscription-based model is an excellent choice for generating a constant stream of regular monthly payments. You can choose to offer two subscriber packages; one for employers and one for job seekers.
To encourage subscribers, you could launch with a special offer, such as the first month of the subscription being free. To ensure that you maximize your subscribers, you could offer different tiers of subscriptions, such as basic and premium, to encourage all users to subscribe.
This is an excellent way to make your subscriptions inclusive while providing you with a reliable revenue stream each month.
Offering companies the opportunity to advertise and share sponsored Content
Inviting companies to advertise or share sponsored content on your platform presents a lucrative revenue stream. This includes banner ads, sponsored job postings, or even sponsored blog articles. However, it's important to strike a balance between advertising and user experience.
The more traffic your job board generates, the more you can charge companies that want to advertise and share sponsored content on your website.
Partnerships and affiliate programs
Forming partnerships or joining affiliate programs can seamlessly introduce additional revenue. Collaborating with reputable companies aligns your job board with their brand, attracting a broader audience.
Partnerships with services such as Job Target and the Indeed Publisher Program allow you to extend your job board's reach to a far wider audience, while affiliate programs, such as the one offered by Fiverr, enable you to boost your income by referring potential clients to their site.
Take the next step: Monetize your job board with WP Job Manager
In the world of job board income, taking various paths is key. We've explored the business model, faced challenges, and found ways to make money.
With a host of add-ons to choose from, WP Job Manager has everything you need to build a successful job board and launch a sustainable revenue stream. Getting started with the WC Paid Listings add-on and Simple Paid Listings add-on will equip you with the tools needed to start monetizing your job board right away.
It's time to try WP Job Manager's tools and unlock the earning power of job boards!