Wondering how job board aggregators are impacting the job market? These digital tools can transform how we search for and find employment opportunities. Understanding what they are, how they work, and how to leverage them will help you enhance your recruitment process, whether you're a job seeker or an employer.
In this article, we'll delve into the world of job board aggregators, demystify their operation, and guide you toward choosing the best aggregator tool to streamline your job search or talent acquisition efforts.
Join us on this journey to unlock the potential of job aggregators and stay ahead in today's dynamic job market!
Understanding job board aggregators?
What is a job board aggregator?
A job board aggregator collects listings from various online sources (such as individual job boards) via scraping. Once extracted, this data is displayed in one centralized place through data standardization and indexing. Job seekers can then explore numerous employment opportunities at once instead of using multiple websites to find the information they are looking for.
Let's explore some of the key technologies that make job board aggregators so useful for companies and recruitment agencies:
Scraping
"Data scraping" refers to the use of automated bots or scripts that can systematically read and extract content from other websites, such as job boards, to gather listing data. For example, they are often trained to pick out key pieces of information, such as job titles, descriptions, and salary ranges.
This information is then reformatted and displayed on the aggregator's platform in a similar layout to a traditional job platform.
APIs
As there are many benefits to having your vacancies displayed on both your own job board and an aggregator site, many job boards have application programming interfaces (APIs), which allow aggregators to directly request and receive job data in a structured format. This ensures essential information is not omitted when a listing moves from the original site.
RSS Feeds
Some job boards provide RSS (Really Simple Syndication) feeds, which in this context, are regularly updated summaries of job postings. This, again, makes it easier for aggregators to gather relevant information and data, especially as they can subscribe to RSS to receive a notification whenever new content is published.
AI and Machine Learning
Aggregators are likely to be made even more effective through AI and machine learning technologies. For example, AI can improve the relevance of job listings shown to users, ensuring that the feed is directly tailored to their skills and expertise. It can also categorize jobs more effectively and remove duplicate or expired listings.
Job boards vs. job board aggregators
Job boards are standalone websites where employers directly post job vacancies, allowing job seekers to browse and apply for positions directly on the platform. They often provide features such as company reviews and career advice, fostering direct communication between job seekers and employers. Some of the most popular examples include Monster, Indeed, Glassdoor, and LinkedIn.
Job board aggregators work as a "search engine for jobs" by pulling (or scraping) listings from multiple job boards and company websites, storing all the information in one place. This means that candidates can explore a wider variety of postings during their job search without having to jump from one website to the other. However, if job seekers want to apply for a position, they will be redirected to the original source.
So if you're setting up a business in the recruitment industry, or trying to increase job listing visibility for your company, you may be wondering whether you should create a job board website or a job board aggregator website. Let's explore the benefits and differences of each:
Benefits and drawbacks: Job boards
Benefits
Using job boards to advertise vacancies can widen the candidate pool quite considerably, making it easier for businesses to recruit top talent. They also allow for direct communication between employers and job seekers. In some cases, employers will have a preference for a particular job board, which means that they feature exclusive listings they couldn't find anywhere else.
Many career sites also double as professional development or networking sites, which means they may also feature other useful tools and information, such as company reviews or specific career pages that talk the reader through finding a job in their dream industry. They can also find out more about the employer brand here.
Drawbacks
Job seekers often have to use multiple job boards or portals to find relevant listings. This means that it often takes longer for them to send out applications and, by extension, for vacancies to be filled.
Job board aggregators
Job board aggregators benefit both the employer and the prospective employee. From a job seeker's perspective, they can view a broader range of job listings in a single place, saving them a lot of time and effort. They also tend to have more flexible search capabilities, making finding a suitable role even easier.
From an employer's perspective, having listings appear on job board aggregators means their listings will get more visibility and, in turn, more applicants.
Benefits and drawbacks: Job board aggregators
Benefits
Job board aggregators benefit both the employer and the prospective employee. From a job seeker's perspective, they can view a broader range of job listings in a single place, saving them a lot of time and effort. They also tend to have more flexible search capabilities, making finding a suitable role even easier.
From an employer's perspective, having listings appear on job board aggregators means their listings will get more visibility and, in turn, more applicants.
Drawbacks
Sometimes, job board aggregators may contain duplicate listings, making the information hard to sort through. They may also require the job seekers to navigate toward the original job board to apply instead of applying through the aggregator itself.
What platform do job seekers prefer?
There are many different reasons why job seekers may prefer one platform over the other when looking for a new job. For example, if they have a specific job type or company in mind, they may prefer to use more traditional job boards or company websites to find what they are looking for.
However, if they're open to working in various roles, industries, or locations, an aggregator can allow them to explore these job opportunities. As such, they are particularly favored by recent graduates or those considering a career change.
Understanding business models of job aggregators
Owning and managing a job board aggregator can be a viable way of generating revenue, and below are three of the most common business models that similar businesses utilize. You can stick to one of these models, or use a combination to come up with your ideal money-making strategy:
Advertising model
One of the most common business models among job aggregators is the advertising-based approach. These platforms generate revenue by featuring paid job advertisements on their websites.
In this model, employers pay the aggregator to promote specific job roles or open positions. These advertised job listings often appear at the top of search results or in prominent sections of the aggregator's website. By paying for this premium placement, employers aim to attract a larger pool of qualified candidates.
Key characteristics:
Employers pay to have their job listings featured.
Prominent placement of paid job ads.
Generates revenue through advertising fees from employers.
Subscription model
Subscription-based job aggregators take a different approach to revenue generation. They charge both employers and job seekers subscription fees to access their services. In return for these fees, users gain access to various benefits, such as premium job listings, enhanced search filters, and advanced tools for managing the hiring process. This model aims to provide added value to subscribers beyond what is available in the free version.
Key characteristics:
Subscription fees for both employers and job seekers.
Additional benefits for subscribers.
Access to premium job listings and advanced features.
Freemium model
Freemium job aggregators offer a hybrid model that combines free and premium offerings. They provide a baseline package to users at no cost, allowing job seekers to search for and apply for jobs without any fees.
However, these platforms also offer a premium package for a set price, which comes with added benefits worth paying for. For example, premium users may gain early access to certain job listings or receive priority consideration by employers.
Key characteristics:
Free baseline package for users.
Premium package with additional benefits for a fee.
Incentives for users to upgrade to the premium version.
How employers can leverage job aggregators
There are many ways in which employers can leverage job aggregators when it comes to refining their hiring process. For example, they can be used to ensure you reach a wider pool of candidates, making talent acquisition easier than ever. Furthermore, the increased listing visibility that comes alongside this means that you can fill essential roles quickly.
Furthermore, there are many ways in which employers can optimize ads for aggregators to ensure that they receive a high volume of applications. For example, you should ensure that:
You use relevant keywords and keyword phrases. This will make it easier for job seekers to find roles that align with their skills and expertise while also boosting your listing's visibility.
You Provide comprehensive job descriptions. Detailed job descriptions often encourage a greater number of applicants, as they provide job seekers with an insight into the role and your company as a whole.
Enhancing job aggregators with RSS feed for jobs
WP Job Manager is a powerful WordPress plugin that empowers website owners to create and manage job listings effortlessly. The plugin itself is designed to help you create user-friendly and feature-packed job board websites – and its in-built RSS feed for jobs opens up new possibilities for aggregators. It enables the publication of job listings on other websites or the importation of listings via an RSS feed.
WP Job Manager's RSS feed is versatile, allowing easy integration with various platforms, including niche job boards or partner websites. It also updates in real time, ensuring that the aggregator's website always reflects the latest job listings without manual intervention.
To access the RSS feed, you simply use this URL format: https://yourdomain.com/?feed=job_feed. Here's an example of what that looks like:
This feed displays all job listings with assigned job types. However, the real magic happens when you start customizing the feed by adding arguments and parameters to the URL. For instance, if you want to display jobs from a specific category, you can append &job_categories=yourcategory to the URL. This customization proves especially valuable when collaborating with niche job aggregators seeking listings from specific categories.
Furthermore, WP Job Manager offers the Embeddable Job Widget add-on, providing an effortless method to showcase job listings from one site to another, enhancing cross-promotion opportunities.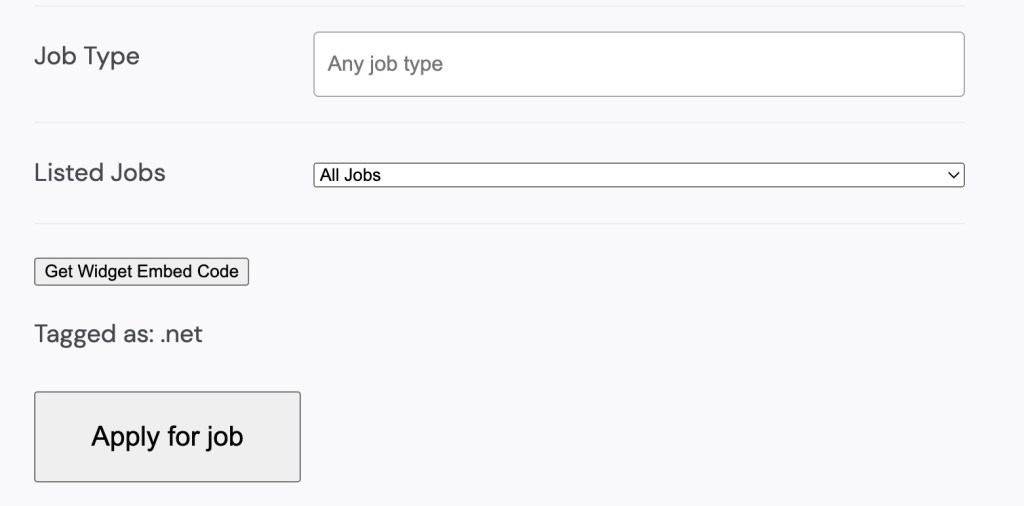 How can WP Job Manager's RSS feed enhance a job aggregator?
Improved search and filter capabilities: The ability to customize the RSS feed based on categories, locations, keywords, and job types enables job aggregators to offer more precise search and filter options to users. This enhances the user experience by delivering tailored job recommendations.
Simplified job application process: Job seekers can conveniently apply for positions directly through the aggregator's website, streamlining the application process and reducing friction.
Detailed job descriptions: By seamlessly integrating job listings from different sources, the aggregator can offer users comprehensive job descriptions, empowering them with the information they need to make informed decisions.
Take action: Leverage WP Job Manager's RSS feed today
Job aggregators have a decidedly positive impact on today's job market, especially when filling vacancies quickly and efficiently.
Approximately 9 million job openings are advertised each month in the USA. As such, aggregators can be a great way to ensure your listing receives the attention it deserves, bringing high-quality candidates to your company. The search and filter options on these sites also make it easier for candidates to find roles relevant to their skills and experience, meaning you'll receive a higher caliber of applications.

Whether you're a job seeker, employer, or job board developer, you can benefit from using WP Job Manager and its RSS feed functionality. Get started today to see how this plugin can revolutionize your recruitment efforts!