Three in five workers are currently looking for new jobs, and this means there's lots of potential for you to attract the attention of potential hires if you're a professional recruiter or hiring manager. However, you'll need a captivating job board to do this, and while existing third-party solutions exist, you might want to create your own custom solution.

This might sound daunting, but the truth is you don't need coding experience to build a job board if you use WordPress as your Content Management System – and if you pair it with Elementor, a page builder that seamlessly lets you drop in widgets using real-time editing and a drag-and-drop editor, the task becomes even easier.
However, there are some additional tools and steps that business owners, or hiring managers, must be aware of to create an effective job board on your Elementor-built site. In this article, we'll talk you through the process of building an effective and enticing job board on WordPress using Elementor.
Introduction to building a job board on WordPress with Elementor
WordPress and Elementor are massively popular tools used by business owners all over the web. In fact, WordPress powers 43.1% of all websites, and Elementor is used on 8.9% of all websites. This makes WordPress the largest CMS in the world, while Elementor is the largest page builder.
Building a job board on WordPress with Elementor comes with various benefits, including flexibility, customization options, and ease of use. Let's look at some core benefits below:
Incredible flexibility: WordPress and Elementor come together to create a space that's highly adaptable. This means you can easily shape your job board exactly how you want it. Whether you want a clean look or want to add advanced features, these platforms give you a wide-open canvas to work with.
Limitless customization at your fingertips: With WordPress and Elementor, you have the freedom to customize your job board website to your heart's content. Elementor widgets enable you to integrate functionalities like search bars, share buttons, post lists, testimonials, and a wide array of other useful features.
Effortless building: Entering the world of job board development might seem overwhelming, especially if coding isn't your strong suit. However, the intuitive interfaces of WordPress and Elementor make this process a breeze. You can choose a job board WordPress theme as the foundation of your website design, and use pre-designed Elementor templates as page layouts. Additionally, Elementor's drag-and-drop functionality allows you to arrange elements effortlessly on your job board, all in live view.
Enhancing your Job Board with essential features
Pairing Elementor with WordPress serves as a promising foundation for your job board, but you'll also need to understand what fundamental features you need to create a compelling job board. These include:
Job listing management. This essentially grants you control over job listings, which means you can open listings and close them when you've found a viable candidate.
Resume submission. By enabling users to submit their resumes directly, you can simplify the recruitment process for all parties.
Search and filtering registration. Search and filtering tools will make it easier for a candidate to determine whether or not they are a viable fit for the role, meaning you'll receive high-quality applications. For example, they could filter open applications based on career type or job type.
User registration and login. By encouraging users to register on your job board, you can send out tailored job suggestions and keep their resumes on file for future openings.
Employer profiles. This feature will enable candidates to learn more about your company, so they can ensure they're a good fit before applying. You can also include a contact form so they can reach out if they have further questions.
Choosing the right plugin: Elementor Connector for WP Job Manager
Not all of these features discussed above are available through Elementor alone, so you'll also need an additional job board plugin that supplements the capabilities of Elementor.
To begin with, you should utilize the WP Job Manager plugin, which was specifically designed to facilitate the creation of practical (and responsive) job boards.
This easy-to-use plugin is a leading job board plugin for WordPress and powers job listings on over 100,000 websites, and it boasts features such as frontend forms, search and filter functionality, RSS feeds, job schema, and job dashboards.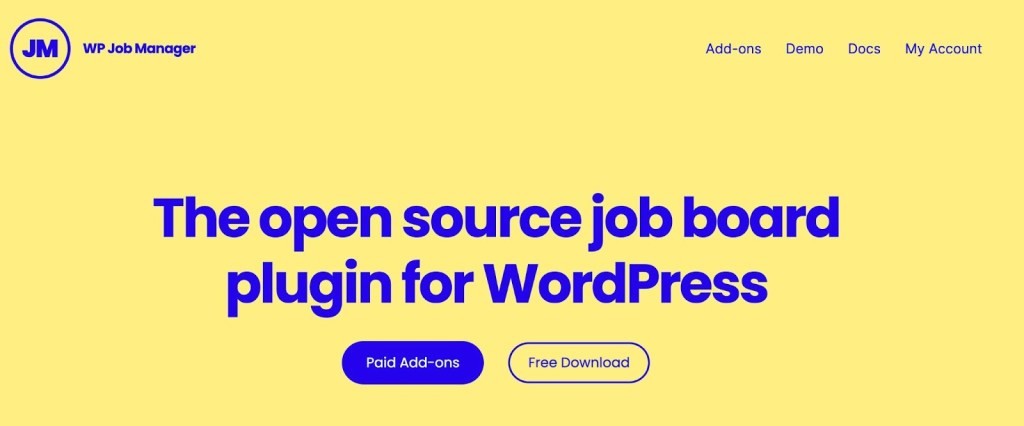 To connect WP Job Manager with Elementor, you'll need an add-on plugin: Elementor Connector for WP Job Manager. This allows you to add and customize layout widgets to your Elementor-built WordPress website, bridging the gap between Elementor's design functionality and WP Job Manager's job board functionality.
This remarkable Elementor Connector add-on boasts an array of features that elevate your job board's potential:
Conditional widget compatibility: The add-on seamlessly collaborates with conditional widgets, allowing you to create dynamic and tailored content for your audience.
Works across any theme: Regardless of the Elementor-compatible theme you've chosen for your WordPress website, the Elementor Connector add-on functions seamlessly, ensuring consistent performance.
Advanced single job templates: This add-on provides you the latitude to leverage advanced single job templates, catering to the unique needs of your industry.
Integration with Elementor Pro: Though it's not required, this WP Job Manager add-on works with both the free version of Elementor as well Elementor Pro, which means you can augment your design possibilities with premium widgets.
Tailored job listings design: The Elementor Connector allows you to craft visually engaging and industry-specific job listings, enhancing their impact and appeal.
Styling of job submission form: With this add-on, you possess the means to stylize your job submission forms, ensuring a cohesive and branded experience for both job seekers and employers.
If you need to further enhance the flexibility and functionality of your job board, WP Job Manager has two additional widgets specifically created for Elementor-powered job board sites:
Step-by-step guide to creating your job board
Now that you understand the importance of building an effective job board when filling vacancies within your company, we'll provide a step-by-step guide to creating a job board using WordPress, Elementor, and WP Job Manager!
1. Setup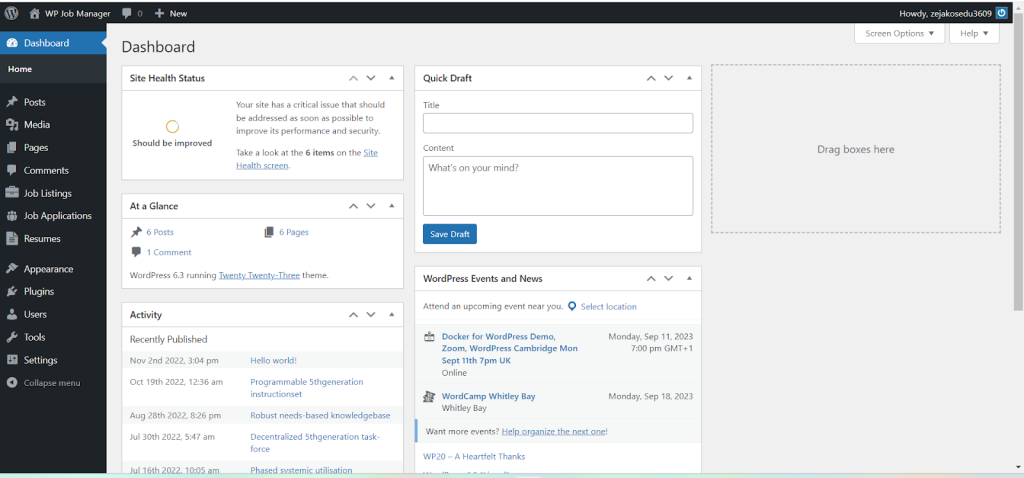 2. Installing Elementor Connector for WP Job Manager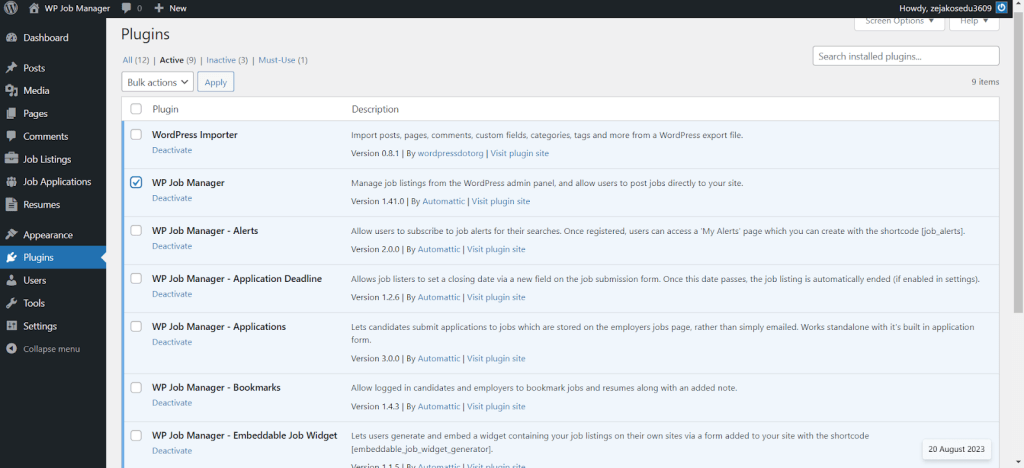 3. Use Job Manager widgets
Once you've installed all of the necessary plugins, you can create your job board using Job Manager Widgets.
Firstly, add the "Job Listings" widget to a job page, career page, or post using Elementor, and set up the display parameters and style.
If you want to display a specific job, use the "Single Job Listing" widget, and specify the job ID in the widget settings. This widget can be used to:
Provide a summary of the job
Specify the Job ID
Set the number of summaries to display
To add an easy-to-fill submission form to any page, use the "Submit Job Form Widget."
To allow users to view active/expired applications, use the "Job Dashboard Widget."
4. Use template builder widgets
Each of the following widgets allows for more detailed styling and customization, and can be used to create a custom dynamic job listing/job posting page:
Single Job Title
Single Job Meta
Single Job Content
Single Job Application
5. Styling
Once you've selected which widget you'd like to feature on your job board, head over to the style tab, where you can explore a range of customization options. For example, you can change the following:
Fonts
Margins
Padding
Borders
Alignment
In addition to editing your widgets, you can edit web page templates or save job templates to use again.
6. Launch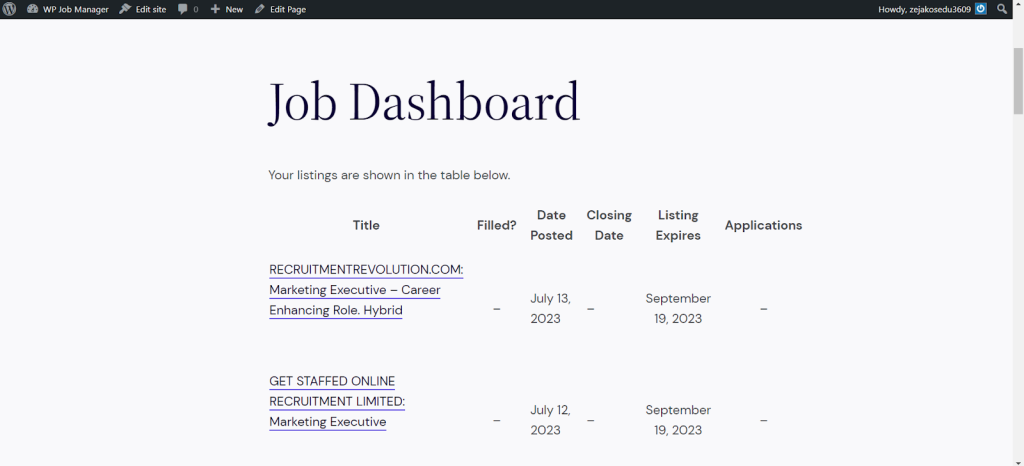 After you've installed and set up all of the widgets and templates you need, be sure to preview your website. This means you can check everything works correctly or troubleshoot any errors before your job board goes live!
Take the next step: Enhance your hiring process with Elementor Connector for WP Job Manager
If you're looking to create your own job portal, leveraging the power of WordPress and Elementor is an excellent way to do it. Elementor makes it extremely easy for non-technical users to build a website, so you can create and launch your job board without needing to hire third-party developers and incur extra expenses.
Additionally, Elementor's widgets, template kits, and ample design features mean you can create an aesthetically enticing job board that catches the attention of applicants.
However, Elementor won't add all the essential functionality that is required in a job board. That's where WP Job Manager, and its Elementor Connector add-on, come in.
These two tools will enable you to add job listing management, resume submission, and other essential features to your Elementor-powered website.
Get started with WP Job Manager and Elementor Connector for WP Job Manager today!